A couple of years ago, I made a mom-and-baby cat illustration for a book that never happened for some reason or other. I found it again while spring-cleaning my hard drive and thought, why not put it to good use?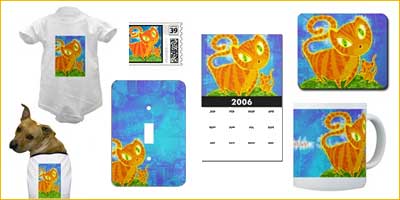 So if you love cats, red tabbies in particular, and [a] you live in the US where Cafepress is based1 or [b] you have tons of disposable cash anyway and want to contribute to a good cause2, it would mean so much if you can support my latest entrepreneurial endeavor. 😀
***

Our favorite fashion designer Tippi's Pret-a-Party and Lounge Lizard lines are now also available at Backstage, located at the 2/F, San Lorenzo Arcade, Pasay Road, Makati (behind New World Hotel), hope you can take a look sometime! Stay up to date with her collections and shows by visiting their respective sites as well as her journal.
***
I'm quite pleased with the choice of judges for Philippine Idol. In the beginning I was afraid it was gonna be one of those Regine, Ogie -or worse, Kris-hosted affairs but the moment they announced that Mr. C was gonna be part of it, I was completely won over.3. If, like me, you're curious about how the auditions are going, FrancisM just so happens to be chronicling the judging process in his journal.
ergo shipping won't cost too much

[ back]
our cat Abby's food and play fund[ back]

There's just no one else who's as credible. Pilita's okay, I grew up seeing her all over TV and she's definitely an icon. As for FrancisM, well I've been a fan since "Yo" came out hehe.

[ back]