Last Saturday I had the privilege of teaching my first watercolor class on portraits. If anyone told the me of 2015 that I'd be holding workshops in a year's time, I would have laughed in their face. Seriously, it took me a lot of thinking, overthinking, and convincing to finally crawl out of my comfort zone and gather the confidence to actually go and do it. Why? Because workshops are the new ballet lessons? Well …yes (*sheepish smile*) but also because I've gained so much from being part of Manila's growing handmade art community so it's time to give back. <3 And why not share what I've learned over the years decades that I've been drawing faces to budding artists who share the same passion for creating?
But first, credit where it's due. The first and only drawing-related workshop I ever attended is veteran artist Fernando Sena's Summer Art Workshop way back in 1986. Believe me that was enough. (He still conducts these workshops, do check them out.) It was an intensive 8-session art course (complete with an on-site sketching session at Hinulugang Taktak in Antipolo, a "graduation" and an exhibit) while I was between 2nd and 3rd year high school and that was where I honed my drawing skills. I learned how to use graphite, charcoal, oil pastels, and even oil paints. It completely prepared me for the courses in the UP College of Fine Arts that I would eventually take. 🙂
After that I'd do charcoal and oil portraits of relatives, friends, and the random 80s teen hearthrob (i.e. River Phoenix, Scott Baio, Robby Rosa… I know, so very #titahits). It was only last year when I picked up the old hobby again and taught myself how to do it using watercolors by watching Youtube videos and reading tutorials. I would also observe Arnold whenever he drew and applied some of his digital sketching techniques to my analog work. And that's how I developed a watercolor portrait style that I'm quite happy with — and that's what I shared and demonstrated in my class last Saturday.
It was held at Hey Kessy, a cute little art and crafts store in Katipunan which also houses a charmingly decorated brightly-lit workshop venue. It's also where I did the Shrink Art workshop last year. I love the place's artsy, creative vibe so please expect more workshops from me in the space.
Some photos of what went on…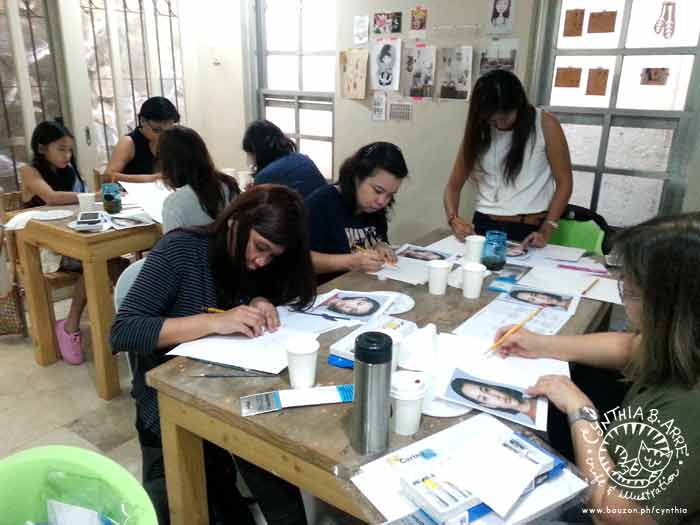 I thought it was important for them to learn face-drawing basics first so I guided the participants on how to do it then let them apply what they learned when sketching from a reference photo. *I just had to pick Kiko Mizuhara as our practice model. How pretty is she?
After we were happy with our respective pencil drawings, we started painting. Below is the result of the face I sketched and painted on-site. Admittedly, this was the part I stressed over for weeks since I've never drawn in front of an audience before — can I do it fast enough? Will it turn out okay?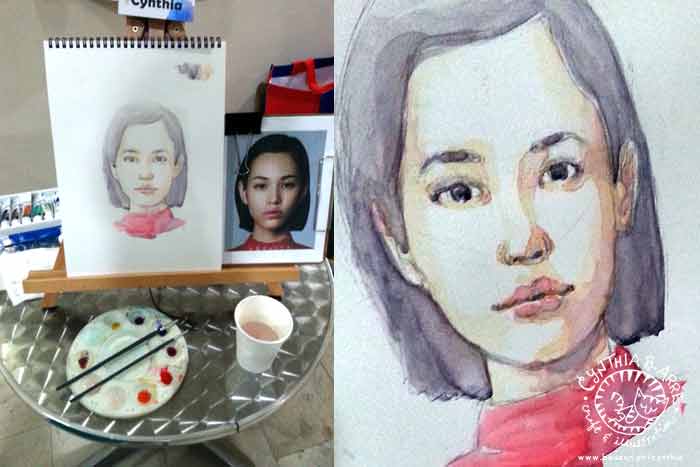 Below: everyone hard at work on their paintings.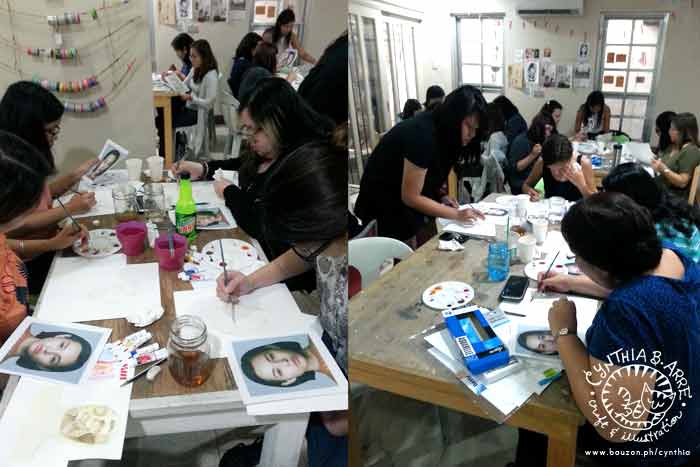 And finally, the result of everyone's efforts — yay, class photo!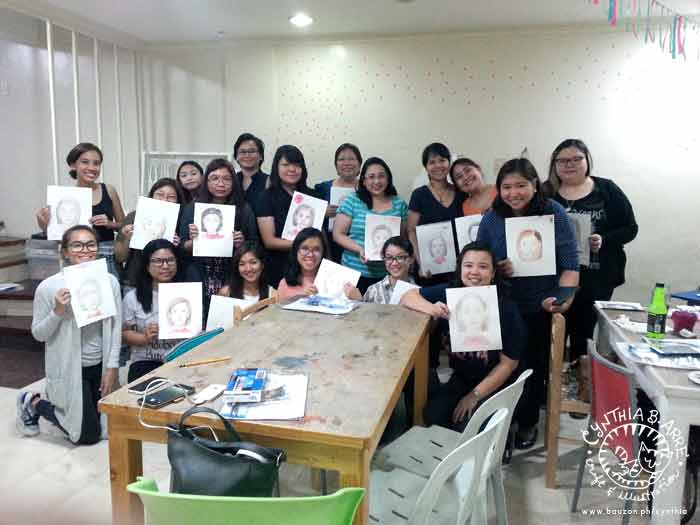 A few of the participants are illustrators like my friend Jovan de Ocampo who's a cake designer and longtime member of AngINK; some are young art students looking to hone their portrait skills, and some are new to watercolors and admitted that they've never properly drawn faces before. But look at their outputs above and below, they did it and I think some of their own styles are already emerging! I'm so proud of them. 🙂
One of the participants, Chu, even shared a before and after photo (below, left)  of a portrait she made a month ago (inset) and her work after she took my workshop.
The other drawing (aboce, right) is a portrait wherein she used a technique I taught them. So happy to see so much improvement in such a short time!
You can keep track of my workshops and student outputs via the hashtag #cynarreworkshops on Instagram. I will definitely hold another class like this soon so if you'd like to join the next one, please leave a comment on this post + your preference of area (QC / Makati) so I can update you once I get hold of more details. 🙂