Because I've been extremely pluggy1 these past few weeks months, I thought I'd be educational for once and post a new "What's the Story Morning Glory" entry. Since there hasn't been time to leaf through my archives of sleeping projects2, it was best to go the easy route and reprise my presentation at this year's MBD – the one that started this whole "What's the Story" thingy to begin with.
Presenting, ta-dah, the UltraelectromagneticJam album design and the story behind it.
SonyBMG called up to say that they want us to design for a yet-untitled all-star Eraserheads tribute album. All we knew was that different bands were gonna perform the music of the Heads. Because it didn't have a title yet, I thought of the following visuals: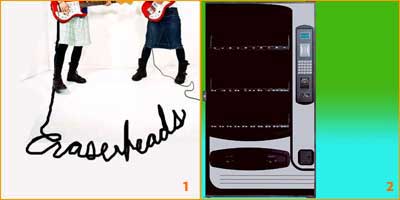 1. Legs of a couple of guitar-playing rocker chicks with the cord forming the name of the band. The idea I was trying to convey is that the album is all about other people playing Eraserheads music.
2. A "pop machine", which also happens to be the title of one of the Heads' hits. It's supposed to be a vending machine that churns out, well, their hit songs but I wasn't able to figure out how to visualize it, which explains why the visual is empty.3
I know I know, they were somewhat flimsy. Thankfully I didn't have to submit them because Sony calls just in time to say that they already have a title for the album, "UltraelectromagneticJam" – derived from the title of the Heads' very first album "UltraelectromagneticPop".
And then in a Eureka! Moment I saw in my head what "look" this album is meant to have: a 70's hippie, all-night party-in-Sunken-Garden feel.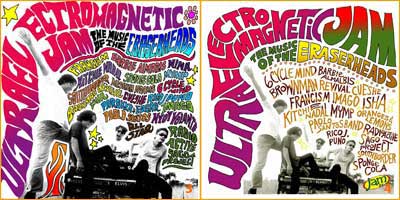 3. I developed a quick, rough study. They liked it so…
4. I made a cleaner version, hoping it would be the final study already because, dear oh dear, hand-lettering all the bands and artists names ain't no picnic.
Sony then informed us that we can't use photos. Ack! Relayout!4 I then had to seek the help of my dear husband for an illustration that will go with the look.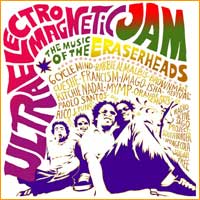 And in the end, I'm quite happy with how it came out. 😀5
Related entry: The story behind the Blow-up Babies website.
***
In case you haven't noticed, the titles/subjects of my last six blog entries are from various songs I happened to be playing in my head at the time I posted them. Anyone who can give me the titles (and artists too, if you like) of the songs they were derived from wins a…er… plug on this blog. 😀
(Visited 67 times, 1 visits today)