Anyone who has the time and patience to make anything handmade is definitely a hero in my book, and as some of you know, I've been posting about everything-DIY for years1 so I thought, ok, for once I'll show (and not just tell).
Project #1: Purse organizer
A 2003 issue of Real Simple2 featured a Purseket, an organizer that you can transfer from bag to bag and I thought "what a brilliant idea!" since I, just like every other girl, switch bags whenever the mood strikes me. (And I hate being out on the road and then realizing that oops, my license is in my other bag!)3 It looked fairly easy to make too so I rummaged for unused fabric and proceeded to make my own version… tadah!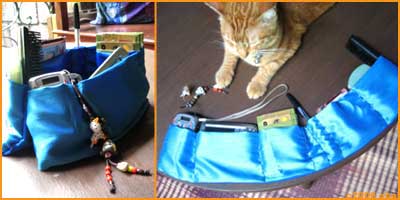 There's a pocket for everything I need when I go out: my cellphone, palm pilot, wallet, license holder, hairbrush, powder compact/tissue/blotting paper, and pen. The best thing is that it can conform to any size bag.
Here's how to do it, it's as easy as 1-2-3!
You will need two sheets of fabric (any kind but ideally, the stiffer, the better4), approximately 25″ x 6″; needle and thread; and velcro fasteners.



Get the measurements of each of the items you want to put inside the pockets.

Plot the layout and then cut the fabric to size, doubling the height so it can be folded over. Baste to hold the folds in place. Make two of these sheets and then form pockets by stitching them together along the lines according to your measurements.

Stick velcro fasteners along the edges and voila, you now have your very own purseket-a-like.
***
I also did some spring cleaning and found an old pair of jeans that I don't wear anymore5 so I fashioned it into a vest for our dear little kitty.

It's a bit crude since I got too lazy to hem the edges but Abbas seems to like it anyway.6 The red satin ribbon "belt" is from a gift we received last Christmas and the button is from one of Arn's old shirts.
***
And finally, I also want to share with you my humble attempt at graphic storytelling — in fact it's so far been my only attempt. The comic appeared in Ramon de Veyra's Hey Comics! anthology that came out in 2004. Um… hope you like it. 🙂

(It's only 3-pages long, click here.)