Sorry for the lack of updates, too many things IRL1 were keeping my hands full.
Most notably, our bi-annual labor of love:
The new Wedding Essentials (July-December 2007) issue is out, and has actually been out for a while now. In case you haven't seen it yet, be on the lookout for one of these four covers.

Something Old, Something New, Something Borrowed, Something Blue
Cover photos by Pat Dy
It's also our thickest issue to date, this one clocks in at over 300 pages!
Here's a taste of what's inside:
Highlights:
– Four new dream themes that represent wedding traditions. Be amazed at what our local event stylists can do to make the wedding of your dreams come true.
– Check out our WE Discoveries section and know new talents WE found and are proud to share with you.
– Don't know where to hold your wedding yet? "5 Star Receptions" is a wonderful article by Zoe Gabe on why a hotel might still be the IT place for you.
– WE's little beauty wonder Tatin Yang helps solve your beauty dilemmas- fast and quick. It's so good even WE're hooked!
– Introducing a hip new celebration concept: Creative Cocktails.
– Delectable Menagerie. Sweet additions to your wedding feast by Candice Lopez Quimpo
PLUS:
Fabulous fashion editorials: Love in Lomo (colorful dreamy lomographs by Jake Verzosa and At Maculangan for Lomo Manila), A Day at the Carnival (shot on location at EK by Keith Dador), and The Vibrant Colors of the Sinulog Festival (a fashion spread shot on location at the Sinulog Fiesta by Wesley Villarica enhanced graphics-wise by Nico & Katwo Puertollano)2.
And to our dear friends and readers: watch out for this year's WE Beautiful Weddings, it's due out in October. 🙂
***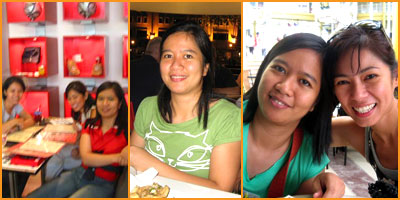 Pretty please join me in congratulating one of my bestest friends Sheila for winning her first Palanca! She's actually won a load of international advertising awards already so this is simpy icing on the cake but still, awards are always nice to have — right, Shei? 🙂 You can read her winning entry here3. Check her blog from time to time too to see what goes on in a multi-award-winning brain. 😉
***

There's good news for all of us QC-dwellers: we don't have to make the trek to Ortigas or Paranaque just to get our hands on pretty party dresses anymore! My dear friend Tippi's Pret-a-Party line is now available at The Ramp in Crossings at Trinoma. Now isn't that sweet? Tips is definitely one of the most creative designers out there so please go and check out her stuff. 🙂
***
Arn & I managed to sneak in a bit of R&R when we hied off to Dumaguete4 and Siquijor with my family to attend a cousin's wedding.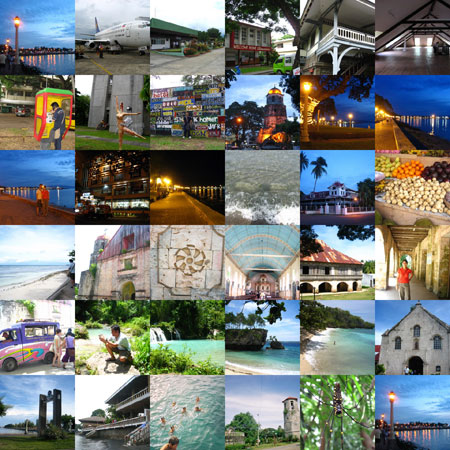 They're such beautiful, peaceful little towns. Do yourselves a favor and plan to visit them at least once in your lifetime. 🙂