Last week when I was organizing my workspace, I found some of my raggedy old sketchbooks1 and suddenly got a burst of inspiration to pick up a pencil and draw for no specific reason — not for a job requirement and not for anything other than fun. I've been trained2 to sit in front of the computer and work, work, work for so long that I was concerned that I didn't know how to draw in freewheeling fashion anymore; you know, draw without having to think if it's "marketable", "on-strat", or "what the client wants". I'm the "client" in this case. My Arn3, the true artist in the household, says that sketching is just like riding a bike4 — once the ability is in you, it'll always be in you — and that one should never overthink what he or she doodles.
.
Armed with that thought, I sat down and came up with the following. Don't ask me why I decided to draw cutesy girls in nippy weather wear, that's just what came out. Maybe I've been listening to too much Swedish pop?
.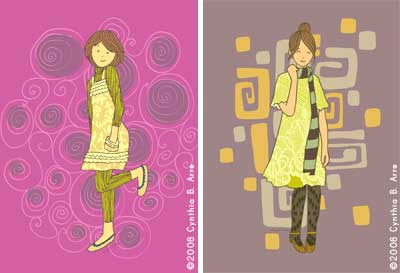 "Jumper Girl"; "Scarfed Sweetie"
.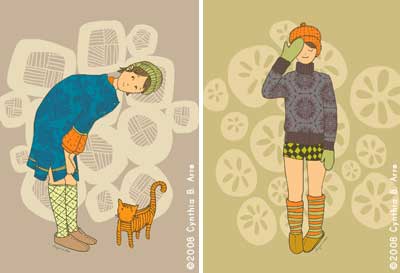 "Kitten-Smitten"; "Mittened Miss"
.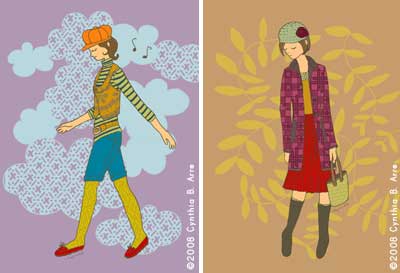 "Bohemian Belle"; "Pleated Posh"
.
And because I'm ever the multi-tasker, I just had to slap the illustrations onto some items over at my shop The Paper Basket so do feel free to spread the love and purchase a tee or two if you like. 🙂
.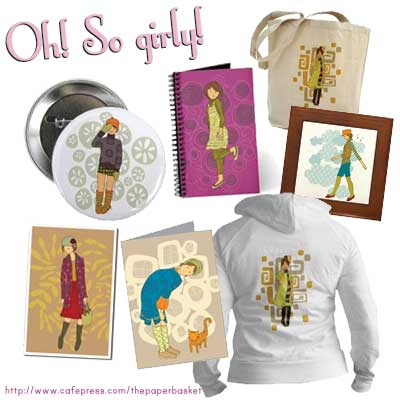 Clickety here.
***
Now to prove that I never really stop working, here's a real project. Lori of Dessert Comes First, one of my favorite food blogs, recently asked me to design headers for her website using photos that she took. The food shots were gorgeous so I made a simple template to allow the images to do the "talking".
.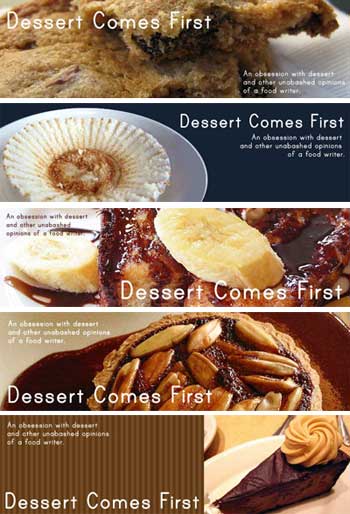 Yummy, huh? The fourth one is my favorite – photo and layout-wise.
.
Fortunately she liked 5 of the 6 studies I submitted so I suggested that maybe she can ask her programmer to make them all load randomly each time the page refreshes, kind of like what I did for my friend Tippi's site. I'm happy to see that it's now being implemented. 🙂