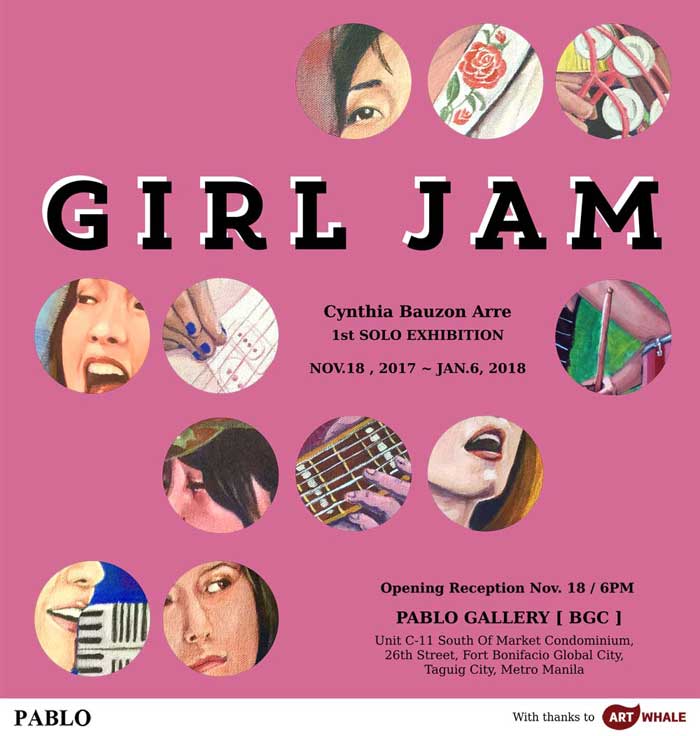 Happy New Year! I know this is late but I wanted to tell you a bit about my first solo exhibit, "Girl Jam" which is still on display at Pablo Galleries Fort but only until Saturday, January 6. If you were to tell my 18-year-old Fine Arts student self that I will be having my own show some years — okay, decades — later, I wouldn't have been able to believe it because back then I wasn't really serious about pursuing painting. I mean, I drew and painted a lot for school but my heart was bent on working in the advertising industry. Which was exactly what happened, but I digress…
A few years ago, when I started revisiting watercolors, I posted these practice sketches on Instagram —
A friend from the music scene days, Indi, wrote me privately to say that she would love to see me paint local female musicians. I loved the idea but I wasn't confident enough at the time so I said to her (and apparently to the Universe?), "maybe someday." I forgot about it but somehow I got obsessed with drawing portraits and capturing accurate likenesses, as you will see if you scroll down to around 2-3 years ago on my IG.
Drawing and painting everyday I really did improve. By late 2016, when I had already been selling art prints online for a year I was trying to think of what series to draw next and then I remembered that conversation with Indi. So I asked a female musician friend, Myrene of Sandwich, if I could paint her and she said yes which was awesome. <3 When I had lunch with my friends, writer Chinggay Labrador & artist Christina Dy, I mentioned that I was going to make a postcard series starring female musicians but then CDy said, "postcards? Why not have an exhibit instead?" I was surprised because it was an idea playing in my head too but I guess I needed a boost from someone else? She encouraged me to contact a gallery then & there. Pablo was top of mind since I had already taken part in two group shows at their Cubao X gallery years ago and I also remember promising the owners, Yo & Osie that I will have my first ever show with them. So when I texted them, it was an instant yes and my show was almost immediately scheduled! No turning back anymore.
That was in December 2016. I had, roughly, a year to prepare but I still had to figure out what style to do and what materials to use. I practiced with different mediums and decided to use Turner Acryl Gouache since the bright opaque colors suited the look I had in mind. I purchased my initial Acryl Gouache set from ArtWhale 2 or so years ago but they were almost used up so I decided to buy big tubes of White, Perm. Red, Perm. Yellow, and Ultramarine Blue plus a couple of small tubes of Burnt Umber. All the colors I used are mixes of those colors. (Btw All the canvases were purchased from ArtWhale as well. They were a great big help to me. <3)
Once I had the look figured out it was time to decide on my muses. I made a list but I also asked my friends Buddy & Raymund (formerly of the Eheads) for suggestions on who else to draw — particularly from the younger set — since I wasn't that immersed in the local scene anymore. After finalizing my list I finally got to work. This was in July 2017.
I have to be honest, I was thrilled to be working on a personal passion project but there were also times when I would cry out of frustration & exhaustion. Sometimes I felt like giving up, but it was the thought of making my family & also Arnold proud that pushed me to go on. In the end I decided to just let go because I know that I gave it my all.
Since the show is still up I would like to invite you to check out the paintings in person over at Pablo Gallery, South of Market Residences, 11th Avenue, Bonifacio Global City, which is just a couple of blocks away from BHS and Serendra. 🙂
But if you can't make it, you can view my IG for a few photos plus more backstories. Also, here's a quick peek via this Twitter thread. 🙂
Truth is I'm the kilig one when all these talented lovely ladies said yes when I asked if I could paint them for my exhibit.?? https://t.co/i01lH8OiBV

— Cynthia Bauzon-Arre (@arncyn) November 19, 2017