Around the start of this year I started making notebooks and other stationery that featured local flora and fauna as a personal project.  My motivation was that these are the plants I grew up around and the produce that my parents introduced to us siblings when we were young. Feeling a wave of nostalgia, I drew them while looking back at my childhood, also thinking that kids today could benefit from learning about them. (More on this here.)
I also found myself getting interested in endemic species and, through the process I learned about how a lot of our native plants and animals have, since the '70s and '80s, lost their habitats due to deforestation. That saddened me because it felt like this was no longer the environment I grew up in so I started drawing Philippine-endemic birds, some of them vulnerable or critically endangered – and putting them on stickers (with info sheets) and notebooks as my small way of bringing attention to them.
It was around that time when I received an e-mail from the kind folks at Forest Foundation Philippines asking if I would be open to collaborating with them. I actually had to do a double take because it was as if they had read my mind so I was on board almost immediately. <3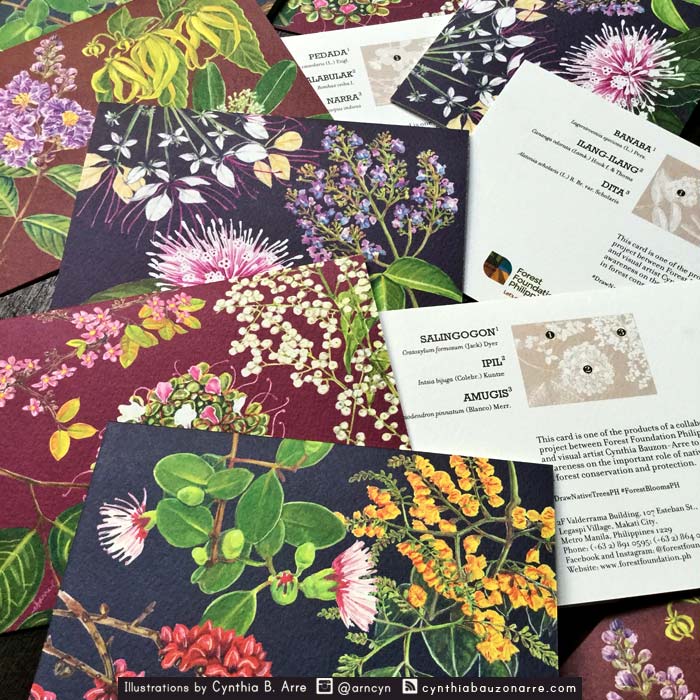 Some meetings, project proposals, and many brainstorming exchanges later, we thought up a campaign to promote the important role of native trees in forest protection. These greeting cards and a planner (WIP below) are among the products of our collab.
We also held a drawing contest on FB & IG (do check the #drawnativetreesph hashtag to see the entries) and there'll be other activities soon which I won't spoil for now.  🙂
***
In other news, I finally got around to making a new portfolio site (17 years since I made my first one :D)
It'll probably take months before I can blog again but am also in all these other places in case you want to connect ~ 🙂
My Webshop / Instagram / Facebook / Twitter / LinkedIn / Pinterest / YouTube