Even before my BGC Art Mart day, I had a feeling I would get a lot of questions about what the kitty accessories I'm selling are made of and how I make them so I put a tutorial together and had it on display in a frame on my table. (You can see part of it in @firehailtree's instagram photo.). It turned out to be a good idea because my customers were able to understand how much care was placed into each item.  Some even asked if I sold shrink plastic because they'd like to try it out themselves! 😀
Anyway, I'd also like to share the how-tos with you.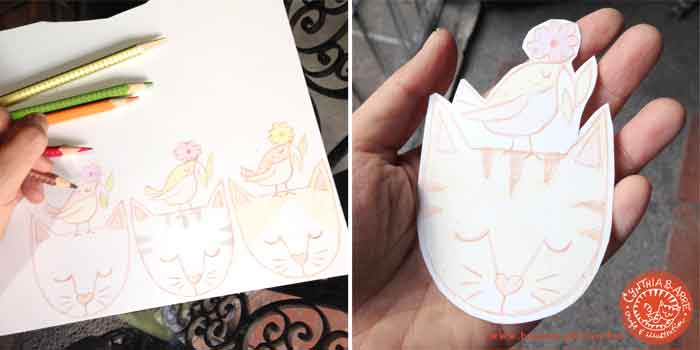 1. I draw the illustrations individually on sheets of shrink plastic, mindful of the fact that the colors will darken and the drawings will shrink down to about 1/3 of its original size. This particular sheet
 is glossy so I roughened the surface with sandpaper so that I could draw on it with colored pencils.
2. I cut them to shape with a pair of scissors.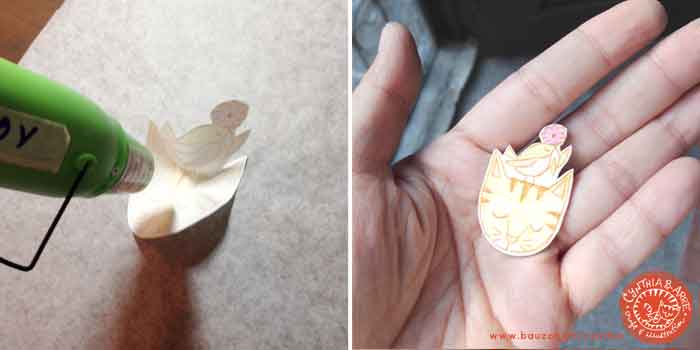 3. I shrink the pieces individually using a heat gun. This is best for complicated shapes that you want to have more control over. Otherwise you can use a toaster oven to bake multiple pieces at a time.
4. Ta-dah! The piece is now smaller, thicker, and harder than it was. After it's cooled down, I would usually spray it with a fixative to "fix" the colored pencil drawings, after which I would apply a glaze coating.
Here's one of my cat pins in action:
* You may order these from my store. 😀
UPDATE (Oct.27, 2015)
I'll be having a Shrink Plastic Crafting Workshop at Hey Kessy (Quezon City) on November 21! Please visit this link to sign up and reserve a slot.