If you're looking for unique, non-mass-produced & affordable Filipino gifts for your balikbayan relatives & friends, may I suggest checking out some items from my shop? 🙂 I admit that in my early years as a graphic designer, it was always a struggle for me to create work that was distinctly Pinoy (unlike my husband Arnold who is an expert at it — it was all over his TEDx talk too). When I started drawing though, the Filipino themes in my mostly pop culture themed work came out naturally. Whodathunkit? So here's a list of the stuff I have that I believe would make nice gifts for relatives & friends based abroad who may be missing the Philippines. 🙂
Philippine Fruits and Flowers Note Card Set
The design for this note card set is a pattern composed of Philippine fruits that I remember eating as a kid – atis, macopa, rambutan, chesa, duhat, mabolo, santol, sinigwelas, calamansi, etc. It's sad that most of these fruits are not commonly found in grocery stores so I felt I had to pay tribute to and raise some awareness for them somehow by way of these drawings. A Pinoy Fruits sticker set (below) is also available at the shop.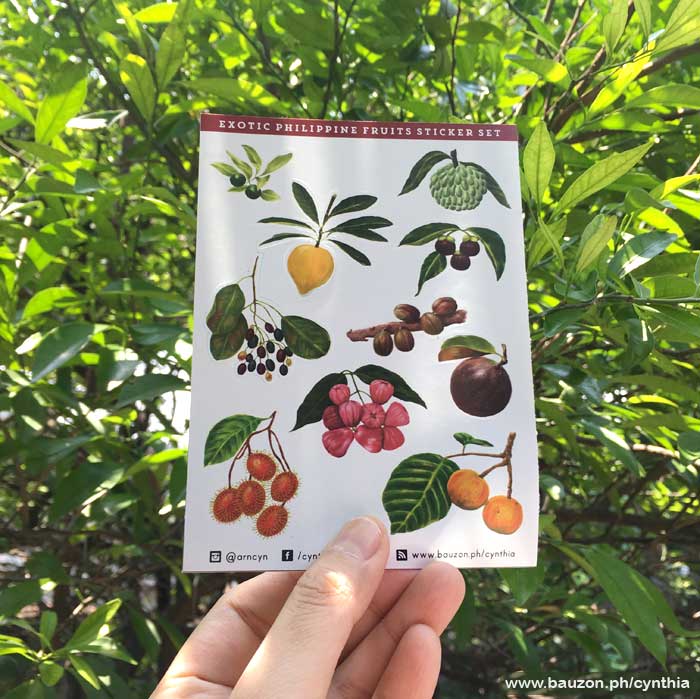 The Passenger Series Watercolor Art Postcard Set
As you know the traffic situation in our country is ~ horrible ~ so I tried to find some positive in it and ended up drawing fictitious love stories emerging from random commuting encounters. The paintings are done in watercolor and the cards are available in the shop (Jeepney / Bus / MRT). You may also find them at Hey Kessy UP Town Center and Common Room in Katipunan & Alabang Town Center.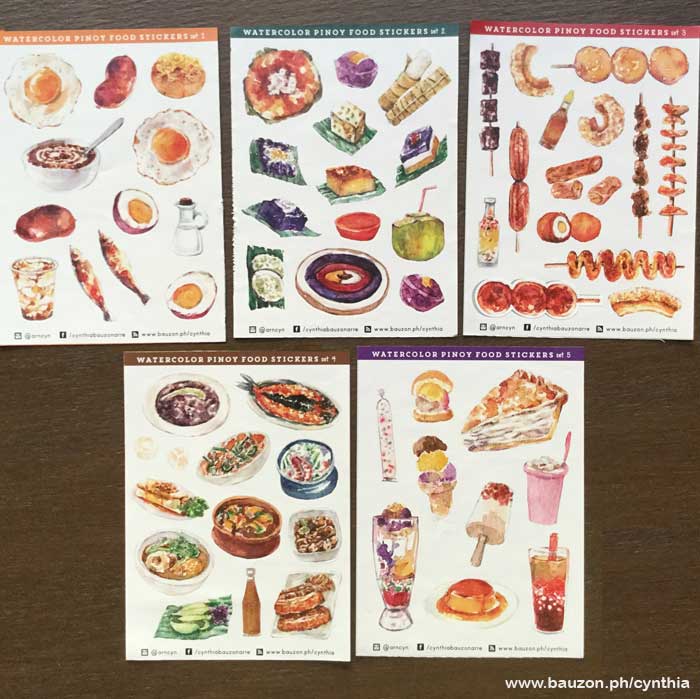 My Pinoy Food stickers were born out of a love for eating! Hehe. Seriously, I grew up eating good Filipino comfort food everyday as my mom is Kapampangan and, to me, she cooks the best Pinoy meals on the planet. <3  I made these just for fun over a year ago but I'm happy to see that others have enjoyed these sets as well. There are five sets all in all – Almusal, Kakanin, Merienda, Ulam, and Panghimagas. Available in my shop and also at Hey Kessy UP Town Center and Common Room in Katipunan & Alabang Town Center.
The Local Music and Indie Films Art Postcard Series
This print series features illustrations inspired by local films "Ang Nawawala" and "Rakenrol" (by my friends, filmmakers Marie Jamora and Quark Henares, respectively) and music (by my '90s rocker pals & collaborators the Eraserheads).  You can find the postcards and art prints at the webshop and, again, at Hey Kessy UP Town Center and Common Room in Katipunan & Alabang Town Center. Incidentally, you guys should also pick up DVDs of the films as they will make wonderful gifts!
Hey Kessy Filipino Food Fiesta Washi Tape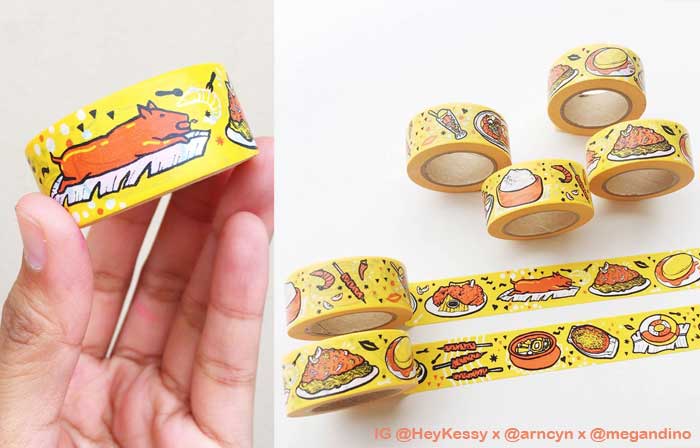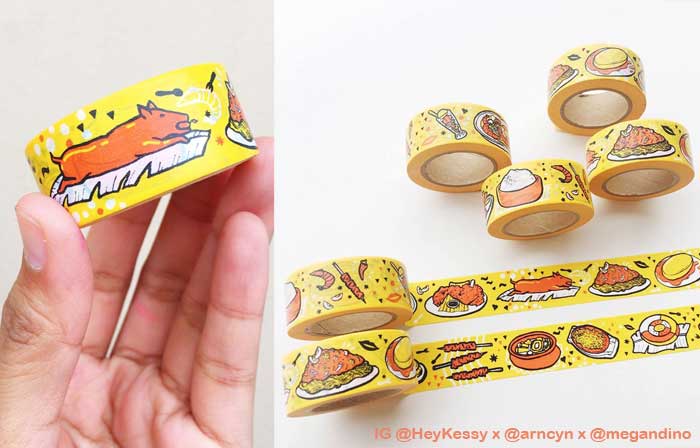 And finally, how can I not include this washi tape! I was very excited when Hey Kessy approached me & fellow Filipino artist Megan Dino (you guys should check out her portraits & merch) to collaborate on a special washi design featuring Filipino fiesta food! Meg & I coordinated via Viber and drew Pinoy food commonly eaten at fiestas — lechon, sisig, kare-kare, pancit palabok, sapin-sapin, halo-halo, bar-b-q, etc — and submitted them to Hey Kessy who turned it into a washi tape for us. It turned out really cute, right? I will stock them in the shop soon but for now they are available at Hey Kessy branches at UP Town Center and Alabang Town Center.
Our Coloring Books – Local Color and Flutterby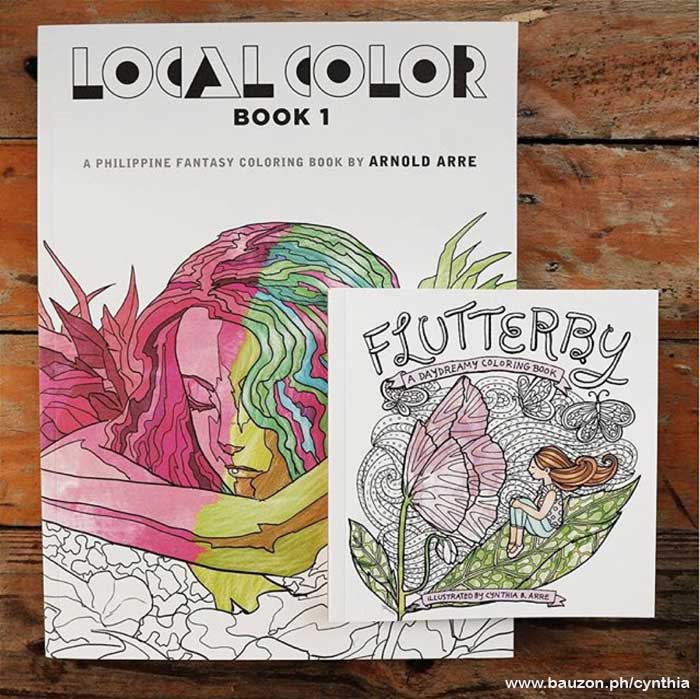 Local Color is a coloring book with Philippine fantasy-themed drawings (diwatas, engkantos, etc) by my husband Arnold, and Flutterby contains my drawings culled from childhood daydreams. You may order these online from our publisher, Chamber Shell Publishing via their website and FB page. (While you're at it, please also check out my husband's graphic novels over there!)
Hope you guys are able to find a Pinoy pasalubong gift idea in this list. I am in the process of brainstorming for more items to design and draw so please feel free to leave suggestions in the comments section. 😀
(Visited 1,155 times, 1 visits today)