It's time for PART 2 of this blog post from June of last year:  My watercolors, brushes, and other painting tools
Since that entry, I've added *just* a few more paints to my arsenal. Most of my watercolors at the time were student grade pan sets, but after practicing for months, I thought I deserved a good selection of artist grade watercolors that I can use for the commissions that were surprisingly starting to trickle in (thanks to my posting of work online). 🙂
After consulting with friends, doing lots of research on sites like Handprint and WetCanvas AND considering what I can afford, I chose the brands ShinHan PWC (Premium Watercolors) and Holbein. These two Asian brands are known for creamy, brilliant colors that are quite similar in behavior and quality. I chose tubes because I have a tendency to mix pan colors on the pans themselves and after a while, I can't tell which is which anymore. Obviously I won't have that problem with tubes if I squeeze out just enough for what I need at the time of painting.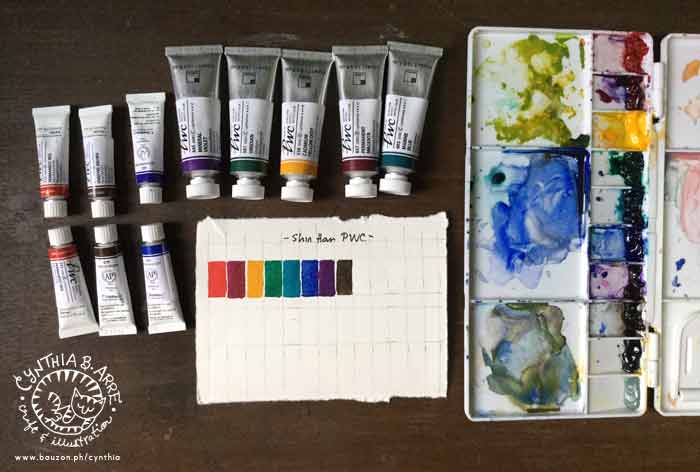 ShinHan PWC Extra Fine Artists Watercolors in 5ml and 15ml tubes — Permanent Red, Vandyke Brown, Ultramarine Deep, Mineral Violet, Viridian, Cadmium Yellow Deep, Permanent Magenta, and Marine Blue. (Locally available from ArtWhale)
I already have a few tubes of the ShinHan Korean Colors which I already reviewed here and here. PWC is ShinHan's top-of-the-line paint and is made with high quality pigments and the finest grade gum arabic which produces beautifully transparent but vivid, fade-resistant colors, as you can see in the swatches above. I also love how I can mix a variety of interesting hues from just those few colors in my palette.
And here's a comparison test I did sometime ago where you can clearly see the difference between ShinHan Korean Colors and ShinHan PWC.
In my previous blog post, I mentioned that I already had a few tubes of Holbein Watercolors but that I haven't really used them much because of the colors I picked. Since that time I purchased a travel set containing colors from their 12-tube set in pan form. The set also includes a little flask, two synthetic hair travel brushes, sponges, and receptacles for water for easy use when painting plein air.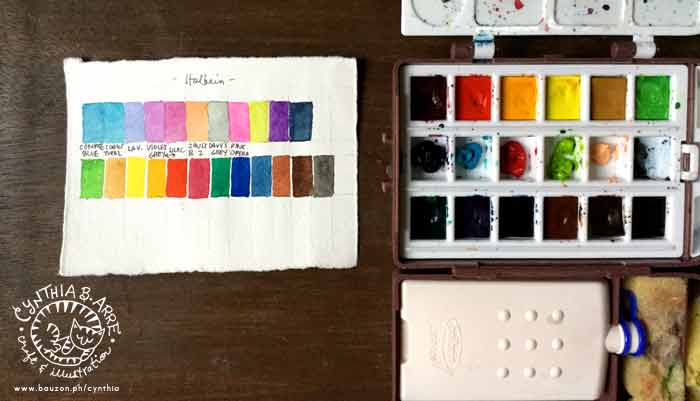 Holbein watercolors in the Pro-Compo Mini II Travel Kit
– Burnt Sienna, Chinese White, Crimson Lake, Permanent Green #1, Prussian Blue, Viridian, Burnt Umber, Cobalt Blue, Ivory Black, Permanent Yellow Light, Vermilion, and Yellow Ochre + 5ml tubes of Compose Blue, Cobalt Turquoise Light, Lilac, Violet Grey, Lavender, Jaune Brilliant #2, Opera, Leaf Green, Permanent Violet, and Indigo. (Available from Deovir Arts though my travel kit is from an indie seller on IG)
Holbein, like ShinHan PWC, is wonderfully creamy and vibrant and re-wets easily. Just dab your wet brush onto the dry paint and the color will leap into your brush like metal files to a magnet. 😀 It also produces beautiful transparent washes and intense hues. I'm very happy with my choice of paints.
Here's something I painted entirely with Holbein:
(Lots more on Instagram as always.)
And now for the brushes I've added to my tool kit —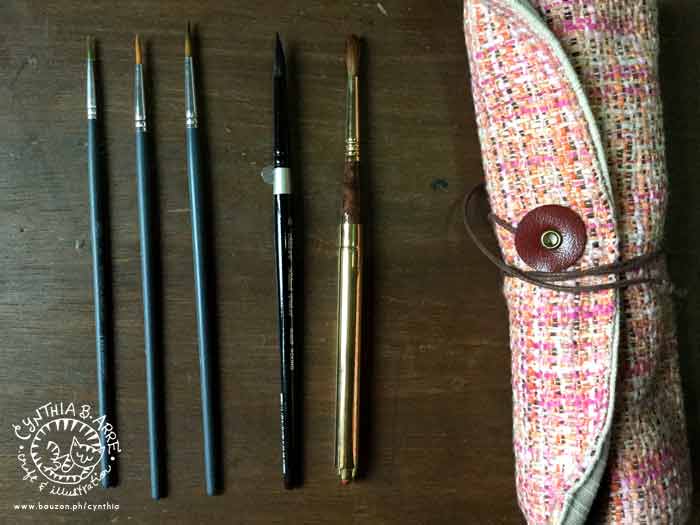 From left to right: Winsor & Newton Foundation Brushes #2, 4, and 6; Silver Brush Black Velvet #8 , and Escoda Reserva #8 which I keep in a Tweed & Twine rollup tool case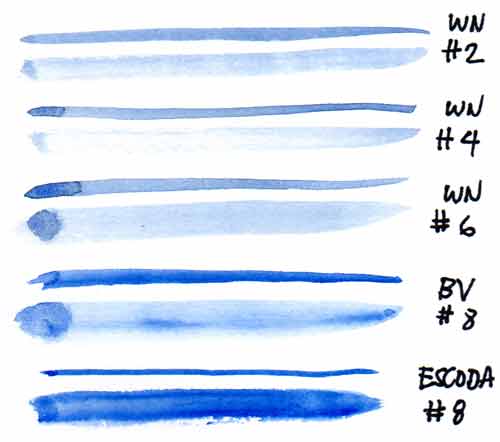 The W&N brushes are actually from my workshop kits (so if you signed up for my Watercolor Portrait Workshop on Feb.20 at Hey Kessy, you'll be receiving a set of these!). I got a set for myself from IFEX Philippines and I've been using them as an alternative to my W&N Series 7 Kolinsky brushes since I don't want to wear those out. These ones are synthetic and have a good snap to them, making them excellent for detail work! (Available at NBS & Fully Booked branches for only P185/set)
This Black Velvet brush is made of a blend of squirrel hair and synthetic filament and I find it very soft and absorbent. I love how the point stays in shape so I can make both fine lines and bold strokes with it. (Available locally from Craft Carrot though I got mine as a gift from a relative in the US)
The Escoda Reserva Kolinsky-Tajmyr Sable is my absolute favorite watercolor brush because it's an all-in-one — it's a travel brush so it can be collapsed. It also has terrific liquid-retaining capacity and the hair holds sharp points, making it perfect for juicy washes, bold strokes, and fine lines. Also, how gorgeous is that golden brass ferrule? (Available from ArtWhale)
See also: My watercolors, brushes, and other painting tools and My favorite watercolor papers
How about you, what are your watercolor painting must-haves? Please do share!
(Visited 1,503 times, 1 visits today)