If you've been checking my Instagram, it might seem that I have been making nothing but stickers…
…which is partly true. The reason for this is I am mostly working offline to prepare for a major project I'm undertaking this year. Something very much-delayed in my life as an artist. 😛 Before I reveal details though, I would like to talk about my current batch of stickers. Pictured above is the Filipino Food Sticker Set which consists of my watercolor illustrations of common Pinoy food for almusal (longganisa, itlog na maalat, taho…), ulam (sinigang, bulalo, lechon kawali, adobo…), merienda (fishball, isaw, turon…), kakanin or native delicacies (bibingka, puto bumbong, sapin-sapin, palitaw…) and panghimagas or dessert (leche flan, halo-halo, sago't gulaman…). It was a challenge to draw the ulam or Filipino dishes especially because our food is so brown and saucy! How to make them look appetizing, right? My solution was to choose food that had vegetables in them to add color, or if they're just really brown, I placed them on a colored plate. 😀
If you're interested in these stickers, they are available online at my shop and at Hey Kessy (UP Town Center) and Common Room (near Katipunan Ave cor. Dela Rosa St. QC).
Other designs available are the following: dreaming dogs, smartly-dressed cats, bread and cheese, sushi, girls & kitties, and coffee. Each one is die cut for easy peel-off and size ranges from .5″ to 2″ — perfect for your planners and journals, yes?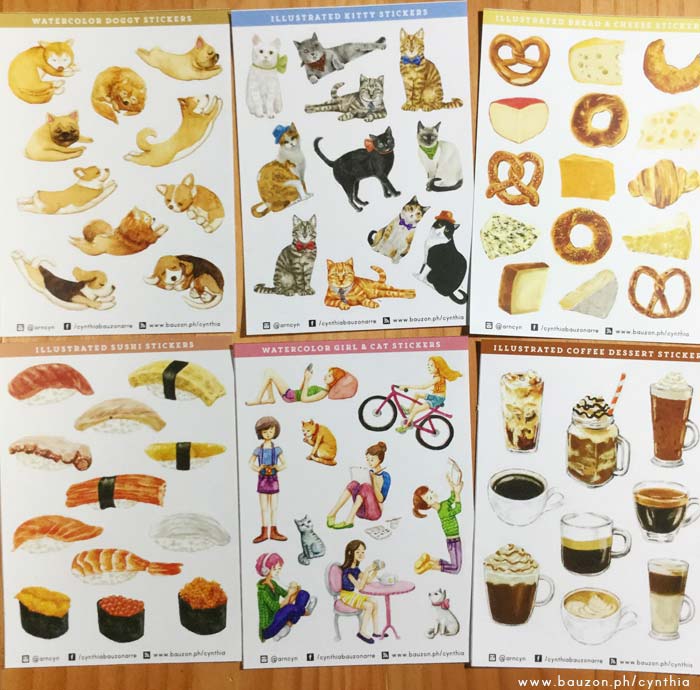 These can be purchased online from my shop too. In-the-making / painting photos are on www.instagram.com/arncyn.
***
Other updates since the last time I wrote here:
1. My design for Callalily's album "Greetings from Callalily" won at last yeat's Awit Awards for Best Album Packaging. I was in Tokyo when the guys sent me a Viber message so I couldn't attend the event but it was such a pleasant surprise because I completely forgot about the nomination hehe. It's my sexond Awit Best Album Packaging Design Award — the first one was for the Eraserheads' "Fruitcake" in 1997 — 20 years ago OMG. Who knew.
2. I've been working on honing my figure drawing skills by attending WhoAreMaro Live Drawing Setup events. Aside from Arnold, I usually attend with my art date friends Arlene Sy and Kuki Ulpindo of ArtWhale which makes it fun and less nerve-wracking. 😀 Drawing from life is great exercise and WhoAreMaro's setup is pretty cool. It's just like the ones we had in school (UPCFA) where the model poses in 5, 10, and 15 minute increments but it's more hip and millennial-y since they invite guest DJs to provide live background music and serve food & drinks at intermission. Here are drawings from the first one I attended:
3. I've also had two on-the-spot-portrait sessions since 2017 rolled in — one was at the BGC Art Mart and the other one at Hey Kessy's Valentine Pop-Up. Tin of Hey Kessy took a video while I was at work (below).
4. I help my good friend and soul sis, fashion designer Tippi Ocampo with her blog every now and then. This time we changed her blog theme and updated her logo. Tippi has always had a hook and eye logo but she had an idea to use her initials "TO" as the hook & eye and I executed it in graphics for her. 🙂 Please visit her site for her updates — she is one of the most talented and insightful people I know. <3
5. Have I mentioned that I have an online wedding invitation store (and moderately active wedding blog) called Poptastic Bride? I was very active about updating it from 20011-2014 until I got pulled into the arts & crafts scene. The blog is still up and I post updates and freebies (printables) every now and then. I also made an Instagram page for my invitation portfolio. 🙂 Below is one of my bestsellers:

That's all for now. I promise to update more often this year!
(Visited 401 times, 1 visits today)