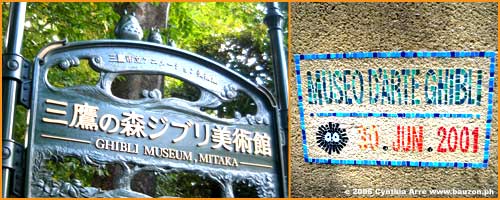 Easily one of the greatest highlights of our 2006 Japan trip is our tour of the Studio Ghibli Museum in Mitaka Inokashira Park, Tokyo and so I just had to make a special page about it.1 The museum houses an exhibit of the process of making animated films the Ghibli (pronounced Jiburi) way and screens exclusive-for-the-museum short films (although I've seen quite a few sprout up on YouTube: "Mizugumo Monmon", "Yadosagashi", and "Hoshi Wo Katta Hi"). If you're a Ghibli/Hayao Miyazaki film fan, visiting the museum at least once in your life is an absolute MUST! The tour and most of the signs inside the museum is in Japanese but trust me, you don't need to be able to read them to appreciate what's in store.
[ad#amazon_studioghiblidvds]
Buying Tickets
Since the Ghibli Museum is extremely popular with Japan residents and foreigners alike, a reservation voucher must be purchased in advance. The admission fees are listed here. You can actually buy your voucher from outside Japan, see this page for info. Within Japan, you can buy it using one of the following ways as listed on this page: (1) via the Japan Travel Bureau (JTB); (2) via Lawson convenience store's Loppi station; and (3) via LawsonTicket.com telephone and online service.
Sadly the Philippines isn't in the JTB's list of countries with a designated travel counter so our only alternative was to buy the tickets upon landing in Japan at a Lawson outlet, the risk being that, since we were only staying for a limited number of days, all our preferred dates might already be booked.
The moment we landed, I asked my Nippongo-speaking brother2 to accompany Arn and me to the nearby Lawson3 because the Loppi machines require you to input information in Japanese. Basically it asks you for your contact information and for the date and time you want to go.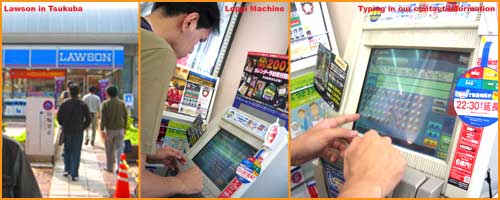 After trying three different date and time combinations, all of which were already fully booked, we finally chanced upon a perfect schedule match: October 26, 2006 at 12 noon. Yay, we were really going!
Getting there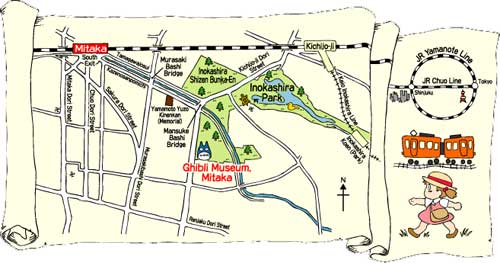 From Tokyo, Kanda or Shinjuku stations, take the JR Chuo Line to Mitaka, it's approximately 20 minutes away if you take the train from Shinjuku. Take the South Exit and walk along the Tamagawa Josui "Waterworks" to the museum (see map above) or be like a Totoro and take the Cat Bus (or the "Nekobasu").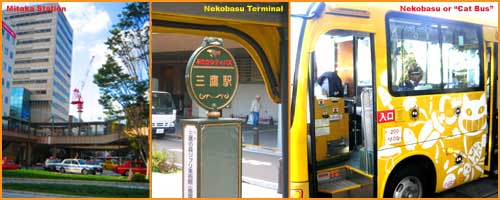 The fare is 200 yen for a one-way trip and 300 yen for round-trip; half-price for children under 12 years old. Please take note that the museum does not have a parking lot.
The Museum: Outside
The first thing you'll notice when you get to the museum is that it doesn't look like any museum (or building, for that matter) that you've ever been to. There's also a sculpture garden on the rooftop featuring one of the major attractions, a gigantic cast-iron Laputa Robot.
The unusual structure was designed by Hayao Miyazaki himself and, as we saw in the official commemorative Ghibli Museum DVD (subtitled in English) we bought, the building's design was inspired by the quaint cliff-top village of Calcata, Italy4 where walkways are narrow and maze-like and houses don't have definite form but instead follow the natural structure of the cliff they're perched upon.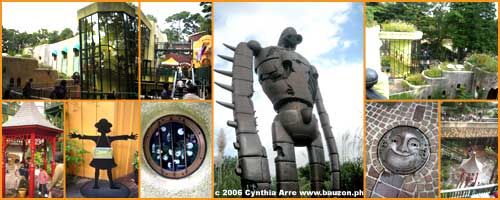 See more pictures in my Ghibli Museum photo gallery page.
Before you enter, you have to exchange your voucher with the actual ticket — a film strip featuring three frames from a Studio Ghibli film. Cool, huh? The ticket will give you one-time access to the Saturn Theatre where you can view a museum-exclusive short film.

They have three 15-minute screenings per schedule, only one of which you can watch during the two-hour tour. Arn and I got to see a "My Neighbor Totoro" sequel called "Mei and the Kitten Bus" that's just as adorable and whimsical5 as the original.
The Museum: Inside
The interiors of the museum is as playful and unusual as the outside and once you step in, you'll want to begin identifying scenes from Ghibli films in the intricate stained glass windows and wall and ceiling murals. It's designed in such a way that there is no definite path to follow and the thrill is in losing your way around it. In fact, it's like entering Totoro's world.
From the brochure: Let's lose our way together. This is the theme for the Ghibli Museum, Mitaka. A peculiar building, carefully designed exhibits, original short animated filmss that can only be seen here, a cozy cafe. You will discover many interesting things in the museum. There aren't any set routes that you must follow. You the one to discover your own way. Those who can lose their way and fully enjoy this space are welcomed at the museum.


Miyazaki's sketch of the Ghibli Museum. Image scanned from the pamphlet.
The building features two floors connected through staircases as well as a metallic spiral staircase and an old-fashioned elevator. Images and tiny details from our favorite Studio Ghibli movies are scattered everywhere — on the walls, floors and ceiling, on banisters, even on the faucet knobs in the bathroom — so be careful not to miss them.
On the first floor are interactive exhibits detailing the animation process. One amazing display, the Bouncing Totoro Zoetrope , shows how images are animated using strobe lights6. This video presentation by renowned interactive media artist Toshio Iwai shows a bit of it (from minutes 1:10 to 1:30). Other stations consist of layered cell diorama studies and 3D prototypes of characters in sequential motion. The Saturn Theatre is also on this floor.
On the second floor are rooms patterned after what their art and design studios must be like: shelves upon shelves with photo albums of reference materials and art books, walls tacked with actual storyboards and real background art, bottles and bottles of paint of every Pantone color imaginable, couches, desks with ashtrays brimming with cigarette butts, etc etc etc.
The third floor houses the featured exhibit for the year and for 2006, they're showcasing the works of Aardman Animations, particularly their work on Wallace and Gromit7. Storyboards, sketches, animation studies and actual clay models and plaster molds for "A Grand Day Out", "A Close Shave", "The Wrong Trousers", and "The Curse of the Were-Rabbit" were on display, what a treat! There's also a "Cat Bus Room" where kids ages 5 and below can play and a children's reading room. "Mamma Aiuto", the museum gift shop, is also on this level.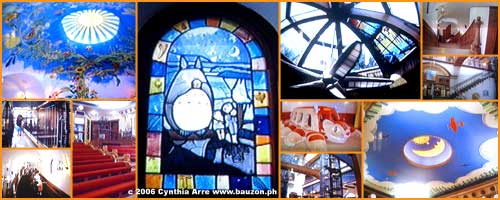 Screenshots from the Ghibli Museum DVD. All images are copyright Ghibli Museum.
Photography and video recording are not allowed inside the museum so Arn and I bought the Ghibli Museum DVD in order to relive our experience in the place. I took screenshots from the DVD (see above pic) so you'll have an idea of what's inside, taking care not to show the actual exhibits so that you'll want to go and see them for yourself. 🙂
After the tour
You're allotted two hours to tour the museum afterwhich the next batch of tourists will be let in. You can stay and take photos outside or on the rooftop or relax at the bright-yellow-and-red "Straw Hat Cafe" — a reference to "My Neighbor Totoro"'s lead character Mei-chan's headgear of choice — where they serve home-style cold and hot meals, snacks and desserts.
Overview
Touring this museum is a fantastic opportunity any Studio Ghibli fan won't want to miss. For Arnold and me, it's probably the closest we'll ever get to meeting the genius Hayao Miyazaki so it's an experience we'll definitely cherish forever.
Complete your Ghibli Museum experience with the following items:
[ad#amazon_ghiblimemorabilia]
Ghibli Museum links
*Ghibli Museum Special Feature — very informative article complete with gorgeous photos and transcripts of interviews with Miyazaki and other people involved in the development of the museum.
*Anime Tourist's Ghibli Tour Survival Guide — very useful resource with step-by-step photographic directions of how to get to the Cat Bus stop from Mitaka Station, how to buy tickets from the vending machine, etc.
*Aaron Kleinsteiber's Illustrated guide to the Studio Ghibli Museum — a tourist's personal account of the museum trip he took in 2002. It inspired me to come up with my own.
*Information on the Ghibli Museum — a personal account that's also a very useful resource. It details all the steps you need to take in getting a voucher with links to photos of the places you need to go to in order to get to the museum.
*Matthew Bystedt Ghibli Museum Tour — another personal account.
*Ghibli Museum Official Website — it's in Japanese, though, but the ticket information page is in English.
*Lawson Ticketing information page in English — the instructions on this page are in English but you'll still need the help of a Japanese-speaking friend to help you input information in their Loppi machines.
*Squidoo lens on the Ghibli Museum — more info on the museum with videos and photos.
*Arnold & Cynthia's Ghibli Museum Photo Gallery Page — more of our photos 🙂
(Visited 1,615 times, 1 visits today)