Finally I can show you some stuff my Arn has been working on these past few weeks.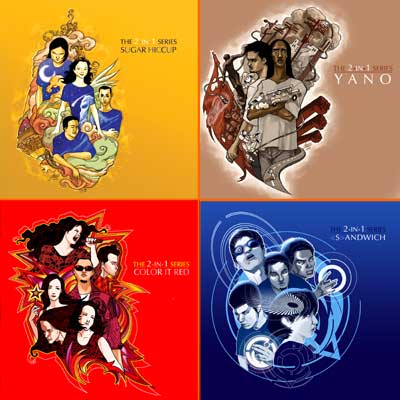 These four albums from SonyBMG are just the first batch of a series of 2-in-1 cds that feature the music of 90s bands like Yano, Sugar Hiccup, Sandwich and Color it Red. Don't mistake them for greatest hits collections though – they're actually a repackaging of two original albums per artist1 that came out in the last decade. So buying one cd will actually give you two albums for the price of one2, neat-o!
When we first learned that it was gonna be a series, we decided to lay it out similarly to the Eraserheads Anthology album so that they can be sold all together as a box set in the future. So now the challenge for Arn was how to make them all look similar yet different – like in Anthology, each illustration should also convey each band's style and personality.
Arn did a pretty swell job, don't you think? The illustrations are fab3 and he just kept amazing me everytime he whipped out a new drawing.
The cds go for P285 each, and please stay tuned because there are six more coming.
***
As for me I'm still busy with the upcoming issues4 of WE but I'll try to squeeze in a blog entry here and there as much as I can 😉
***
Again, don't forget to visit Blow-Up Babies at the Gateway Mall! And because we're talking about 90s bands this week, here's a bit of trivia: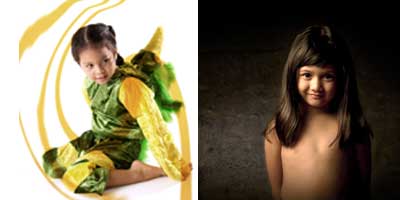 These two pretty little girls are the daughters of two members of a now-defunct but still very popular 90s band5. Can you guess what band it is and which members they are?
Photos courtesy of Blow-up Babies!
(Visited 324 times, 1 visits today)