[Last entry: "Pitches and cream."] | THIS WEEK | [Next entry: "Frannie and me?"]
April 28:
Erasers and Ink
Something every E-heads fan should NOT be without: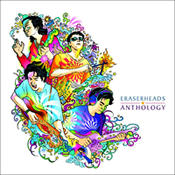 Eraserheads Anthology. Available in record bars since yesterday!
33 finger-lickin'-fantastic tracks, one of them previously unreleased, packed into 2 cds. I'm proud to say that my Arn did the smashing cover illustration and if you look at the details of the artwork closely, you'll see just how big a fan he is, haha (try to spot elements from their previous albums!) It was so cool to be part of this project because we truly love and miss the E-heads... sigh.
*These guys gave me my first big design break. If it weren't for them, I wouldn't have had a chance to experience the world outside the thick walls of advertising.
***
We've been spending quite an amount of time talking to Zoo and Jois lately (because of a certain project that is the bane of Jois' and my existence, haay. Ninoy, buti ka pa!) and it's really refreshing to be exposed to this talented twosome's design principles. Just so you know, you are never too old to learn something new from people younger than you! Check out their mind-blowing stuff at Inksurge.
16 comments
wow. i just love the artwork you did for the CD. galing.
Posted by nheo
Jun 28 | 01:28 PM
wow. i just love the artwork you did for the CD. galing.
Posted by nheo
Jun 28 | 01:24 PM
galeng! got my copy lately... the music as always is great... and the cover art is simply fantastic!
Posted by rene
May 29 | 07:29 PM
Uy na-surprise naman ako na sabit pala ako sa post na ito. Just learned abt this Beatles, er, Eheads Anthology thingie. Gotta head out. But really, I do think that girl in the album seems familiar. hehehe. :)
Posted by kantogirl
May 17 | 02:09 PM
Astig! Beatles of the Philippines! sayang disbanded na, magandang regalo ito sa gf ko, eheads fanatic din sya eh, MARAMING SALAMAT! luv u Kathy!
Posted by Paulo
May 13 | 10:07 AM
sumasabay-sabay sa punit-punit na radyo...
'steeg.
Posted by chax
May 12 | 11:19 AM
sumasabay-sabay sa punit-punit na radyo...
'steeg.
Posted by chax
May 12 | 11:18 AM
Gumising ka, nasa toll-gate na tayo..
Posted by Rex
May 10 | 03:15 AM
bought it. enjoyed it. and got intrigued with the ponytailed gal on the bottom part of the cover as well as surfing the waves inside. may kamukha.
Posted by Junnie
May 05 | 01:28 PM
At P280 for two CDs, the anthology is underpriced!
Posted by wysgal
May 04 | 07:43 PM
Hi Cynthia! Happy overly belated Birthday! Oh, the eheads bring back some memories! I remember a UP Fair gig before they got a record deal or started playing clubs and they were going to end it that night - we were so disappointed. I remember listening to demo tapes of rough cuts Marcus would let me borrow ...They've come a long way - great cover and you've done great work with them!
Posted by pauline
Apr 30 | 07:19 PM
heehee...does the tiny girl at the bottom represent someone... *grin*
Posted by drakulita
Apr 30 | 07:19 AM
Cynthia, Arnold,
IT IS BEAAAAUTIFUL.
Can I post it in my blog? I
will credit it to you guys
of course. Ang gandaaaa.
Posted by Carlo
Apr 29 | 10:22 PM
oh wow, even with that small image, the cover looks amazing! good work!
Posted by alia
Apr 29 | 12:50 PM
i have all their albums in cassette tapes (so yesterday, i know), now i'll have them in CD format. Balak ko pa naman bilhin yung sale sa Podium (P150 each album), eto na pala, maganda pa cover art. Im outta here to buy it!
Posted by Junnie
Apr 29 | 10:17 AM
uuuy! na-excite ako sa eheads anthology. the cover art is genius! i'm going to take all my old eheads albums and listen to them in chronological order :)
Posted by Melai
Apr 29 | 06:02 AM