Hello, I hope you can support the following projects that my Arn recently worked on1
.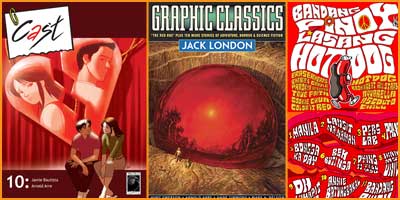 .
Cast 10: Issue 10 of the charming Nautilus Comics series that revolves around the lives of high school stage play actors. Story by Jamie Bautista, art by Arnold Arre.
Graphic Classics: Jack London volume 2. Arn illustrated the somewhat tragic Jack London story "The Wit of Porportuk", adapted by Tom Pomplun.
Bandang Pinoy, Lasang Hotdog. A re-issue of the original Hotdog Tribute album which was first released in 2001. The line-up includes all of Hotdog's best-known, well-loved songs and a host of today's hottest bands.
***
I was supposed to write a travelogue about our trip but work got the better of me and so I only managed to make the following articles2:
***
We're currently putting together the 5th issue of Wedding Essentials and the articles and features are pretty amazing as always3 so for the brides-to-be reading this, I hope you'll watch out for it. 🙂
.
Here are a few photos to whet your appetite4:
.


***
Among the perks of being freelance is that Arn and I can work anytime of the day and still be able to squeeze in some R&R like an occasional movie (or grocery) date, coffee with a gal pal at a nearby mall, dinner with a best bud, the odd blog entry, and the once-in-a-blue-moon-thank-goodness-for-Nest-for-making-it-happen night out with old friends.
[Soundtrack of the night: opening riff of The Final Countdown]5
.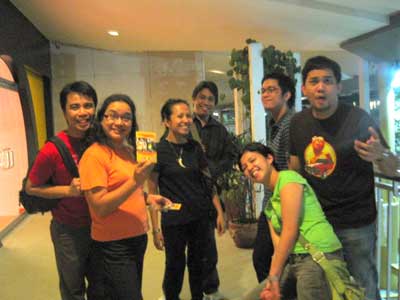 The bunch in front of the spanking new Blow-up Babies branch at Serendra: Buddy, Earnest, Myrene, Arn, Lia, Raimund, and Quark
.


The "shiny happy people" shot. We contemplated having dinner at "Abe: Where Good Friends Dine" but it was just so given, diba?
.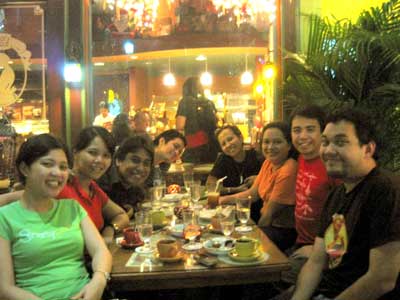 Because Cupcakes by Sonja was closed for a private function (hmph!), we ended up having dessert at Cafe Mary Grace which actually turned out to be a great idea (You have to try their Tsoknut Tsokolate, it's a yummyness!). This photo was taken before the waitress recognized Quark6 and asked to take photos with him. A few minutes later, she also recognized Budz and Raims7 and then asked to take pictures with them and eventually the whole group hehe.
UPDATE: Coolness, Nest has a complete recap of the shiny, happy night out including the dialogue between Jona (the very friendly girl who waited on us — Ms. Mary Grace, in case you're reading this: she's a keeper!), Quark, and Budz when she realized who they were, hehe. Clicky click, velly funny.