Choosing colors for a watercolor palette is tricky. I'm a little OC so up 'til a few weeks ago, my palettes were sorted by brand — one for ShinHan, one for Holbein, etc. The downside is that I had to lug both palettes around when I paint outdoors. Very impractical, especially since I acquired tubes from other brands (Daniel Smith & Sennelier) which meant I'll have to add more palettes for each additional brand. Eek. To avoid that bothersome scenario, I devoted an afternoon to testing all the colors and hand-picking ones I'll have the most use out of and then I combined those into a single palette. Thought I'd share it here since a lot of folks have been asking me about the paints I use. 🙂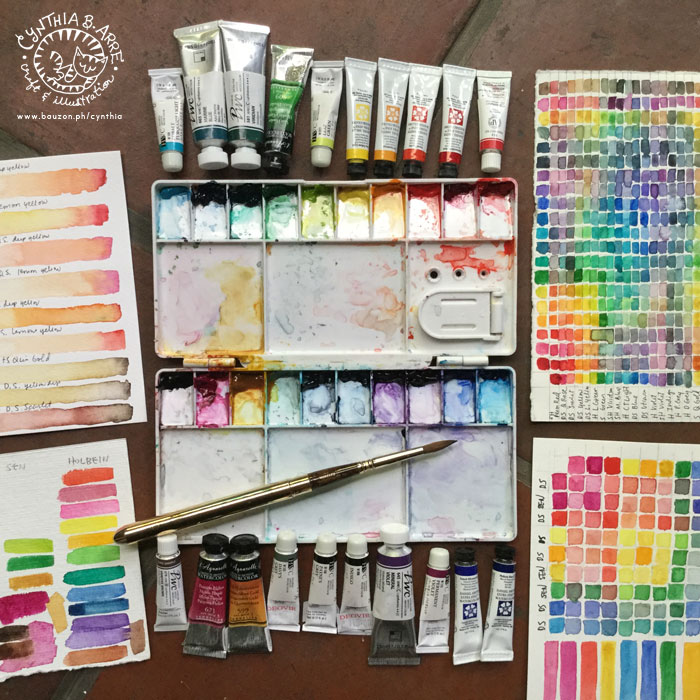 Since I paint mostly people with the occasional landscape or urban background, I decided on a rainbow spectrum of colors — their warm and cool iterations — plus a few neutrals. This way I'll get to mix a large variety of the other hues I might need.
Top row, left to right: Cobalt Blue Light (Holbein), Marine Blue (Shin Han PWC), Viridian (Shin Han PWC), Hooker's Green (Sennelier), Leaf Green (Holbein), Hansa Yellow Light (Daniel Smith), New Gamboge (Daniel Smith), Pyrrol Scarlet (Daniel Smith), Quinacridone Rose (Daniel Smith), Permanent Red (Shin Han PWC).
Bottom row, left to right: Vandyke Brown (ShinHan PWC), Helios Purple (Sennelier), Quinacridone Gold (Sennelier), Davy's Grey (Holbein), Payne's Grey (Holbein), Permanent Violet (Holbein), Mineral Violet (ShinHan PWC), French Ultramarine (Daniel Smith), and Pthalo Blue (Daniel Smith).  [info on where to shop these brands are below]
Below is an illustration I made using only the paints from this palette.

(If you think the characters look familiar, that's because they're based on Augustus and Hazel from "The Fault in Our Stars." I'm currently working on illustrations inspired by YA films, a wonderful idea suggested to me by talented artist & letterer Abbey Sy. So excited to make more. :D)
I'm very happy with this combination because it has everything I need — just look at the colors that can be mixed from this selection on the charts I placed beside the palette. If you're looking into getting into watercolors and are panicking over what pricey set to buy, try determining the colors you need first and then purchase individual tubes & pans and make your own set 🙂
ShinHan PWC and Sennelier tubes are from ArtWhale (can be ordered online)
Daniel Smith tubes are from DE's ArtRoom (they're based in Cebu but you can also order online)
Holbein tubes are from Deovir Arts (SM North Edsa, Quezon City)
***
Last Saturday I had a live portrait session for Hey Kessy's Father's Day Celebration. When Dinny (of Hey Kessy) asked a few weeks ago if I 'd be willing to do it, I hesitated but, as expected, dear husband said that I'll never know that I can if I don't try. I practiced using Arnold, random faces on Pinterest, and my cat (:D) as the models, grit my teeth and finally messaged back in the affirmative.
I sat in the store for 3 hours, from 10 am to 1 pm and was able to draw three friendly faces.  I'm thinking that if I had chosen an afternoon schedule, there'd probably be more walk-ins but I was thankful for the relaxed pace.
Each portrait took about 20-30 minutes to make. I was worried about not capturing resemblance exactly but I relaxed once I set my mind that given the setup, all I could do were caricatures at the most…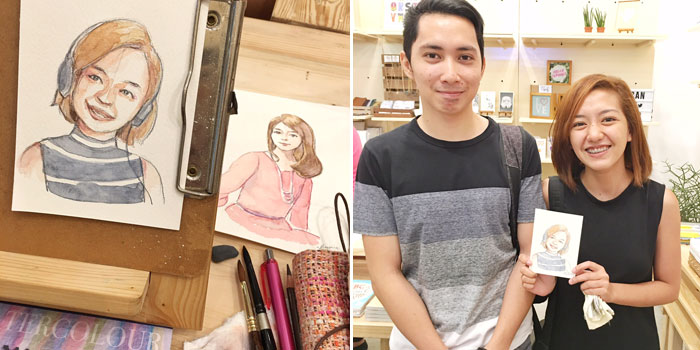 On hindsight, I'm glad I accepted the gig because painting from life with the models actually knowing that I'm painting them — as opposed to sneakily painting people in a coffee shop — is a great experience. We had to do it for art class in college but the subjects were either classmates or hired models. This time, my subjects really had the intention of having me draw them, which gave me a boost of confidence. Save for Danry who I already know from comic-related events, I got to know really nice people beyond just "hi's and hello's" and that was wonderful.
***
Speaking of Hey Kessy, I have a Shrink Art Workshop there on July 2! I resurrected my Youtube Channel and made a How-to Make-Shrink-Art video so you'll have a taste of what we'll be doing there,
Please sign up via this form if you'd like to learn how to make shrink art out of your doodles too! Class fee is P1500, inclusive of materials and light snacks.
*More details here.