[Last entry: "Erasers and Ink"] | THIS WEEK | [Next entry: "We caved and phlogged."]
May 05:
Frannie and me?
Christine sent me a link to this hilarious and witty Asia Pacific AdFest-winning TVC. Click and pump up the volume, kids.
*I have to check what year it's from though since am so out of touch with the international ad scene!
***
Wow, I'm happy that I helped sell the Eheads Anthology album somehow by posting the cover on this blog. We've been listening to the album over and over ourselves and I agree with Wysgal, it is way underpriced at P280 (2 cds? 33 tracks?). Well... more for us! (;
Oh and how funny, Junnie, Pauline and Drakulita thinks that the little ponytailed girl at the bottom is... me? Haha! It's really supposed to be Frannie Wei, guys, remember her? The girl in Fruitcake?
However, my Arn seems to think that Frannie and I are indeed one and the same: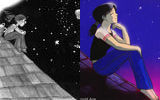 UPDATE: Hmm, okay I just google searched "Frannie Wei" and found these:
... Strangely enough, I felt like Frannie Wei eerily resembled the illustrator, though of course I could be wrong.
Hehe Jess, a lot of people felt that but honestly I wasn't drawing myself. In fact I had very short hair back then.
... then inside are painting perhaps of the interior of the house with a hanging pictures of a girl (Cynthia?) and of Frannie Wei of Fruitcake, still with more newspaper classified ad's cuts.
Yikes! I never put my face in my work ha. I will most likely insert friends' faces, like Earnest's and Buddy's (Itchyworms first album), but certainly not mine. Haha, funny!
***
And since we're talking about the Eheads cover, I remember this one thesis student, Enrico, who I helped years ago when he needed advice about working in the field of graphic design. He stumbled upon the Anthology album recently and decided to write and show the design he made for his thesis which is, coincidentally, an inlay for a Best of E-heads album! Here it is...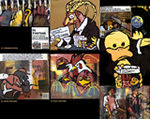 Nice, huh? Arn and I were really impressed! (If any of my clients are reading this now, feel free to hire him! Haha, I won't mind.)
3 comments
hi, ate cyn! i just bought the album myself. i'm so senti!!! it brings back good memories. :)
Posted by alia
May 11 | 10:32 PM
baka ikaw rin si frannie wei ate cynthia! ;P heehee kulit no? :P =)
Posted by c-an
May 06 | 09:28 PM
Cynthia, I can't help but think that your husband maybe has u on his mind no matter who/what he draws!
Posted by Pauline
May 06 | 02:49 AM