Here's something I've been laboring on this past couple of weeks — a watercolor version of my floral alphabet. Progress has been verrry slow but that's also because I haven't been working on it as often as I should because I'm lazy because I keep finding other things I want to do1  According to my Instagram, I started working on the alphabet on Feb. 1st. And here's where I am so far.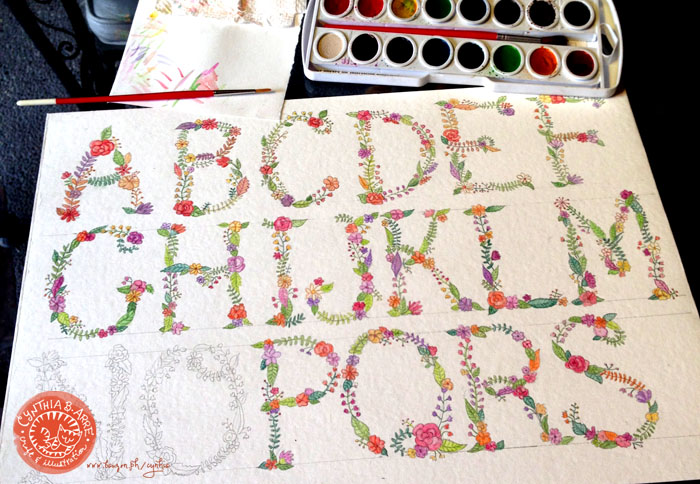 (Do you lefties also paint from right to left?)
Hopefully posting it here will push me to finish it… OKAY. This time next week it *will* be done — I promise you, Universe!
I'm also thrilled to show you the proofs of my art cards.
I had them printed on 250 gsm lightly-textured archival & eco-friendly card stock so they're sturdy and very nice to the touch. Although I had to slightly adjust the colors on my files because they printed darker than I expected, I'm very happy with how they turned out. Once the final prints arrive you can bet that I will open that shop I've been promising (myself, more than anyone else actually. 🙂 )
***
And finally here's my lovely friend (one of my bridesmaids!) April with the portraits of her Shiba dogs Mya and King. I just had to show you (with her permission of course) how happy she is with the drawings. 🙂
Mya (orange) is 6 and King (black) is 4 years old.  There are still very few Shiba inu parents here in the Philippines and April is among the few so if you're considering owning one yourself, do check out her blog Owned by a Shiba.2
(Visited 387 times, 1 visits today)
like watch TV. I just started Karamazov no Kyoudai, the Japanese drama adaptation of The Brothers Karamazov and it's got me hooked.[ back]
It hasn't been updated in a while but there's a lot of detailed information on there about caring for and rearing Shiba Inus.[ back]