When I started drawing actively again late last year, I think my unconscious aim was to rediscover the mojo that, as evidenced by this blog post, somewhat fizzled out due to dependence on Photoshop and Illustrator. Now that I got my fill drawing animals, plants and flowers teehee, I'm finding myself being drawn to figure drawing and watercolor. At first I thought colored pencils were going to be my go-to medium (I still love them but they make my hand hurt after a while) but after doing the portraits of the Eraserkids, I felt the urge to keep on painting.
I knew I wanted to paint more people and again I remembered this old artwork that I made in school.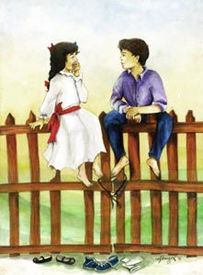 "Fence" 1990
I figured that it would be fun to paint couples in "kilig" moments and realized that hey, the anime, J-dramas and J-movies I've been watching all these years are full of those. Not only will I get to hone my figure drawing and watercolor painting skills, I'll also get to draw my favorite characters.  😉
So, if you've been keeping an eye on my Instagram feed, you've already seen these. But since you're here, let me tell you the back stories for each of them. I didn't want to just copy and make illustrated versions of stills and posters so I added a few twists.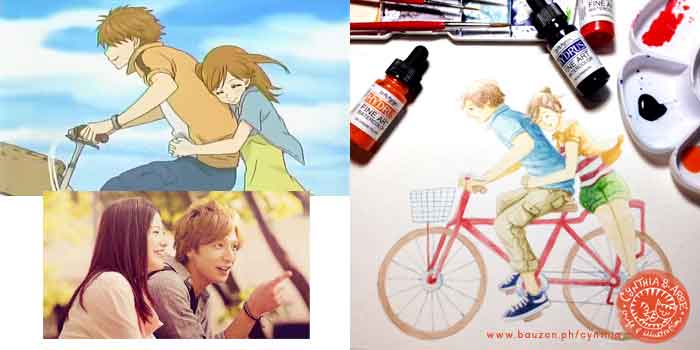 1. The artwork I made for "Bokura Ga Ita" (on the right) was based on a scene in the anime series' closing theme (top left) but I tried drawing the characters as they were portrayed in the live action movies which starred Ikuta Toma and Yoshitaka Yuriko.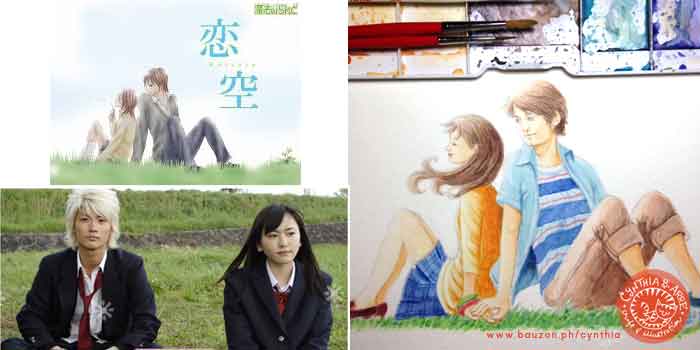 2.  I based my fan art for "Koizora" on the manga poster (top left) but again, I used the live action movie's actors' (Gakki and Haruma Miura) likenesses in my drawing. Of course I also took some liberty with their outfits. It's so warm that I couldn't bring myself to draw cold weather clothes. 😉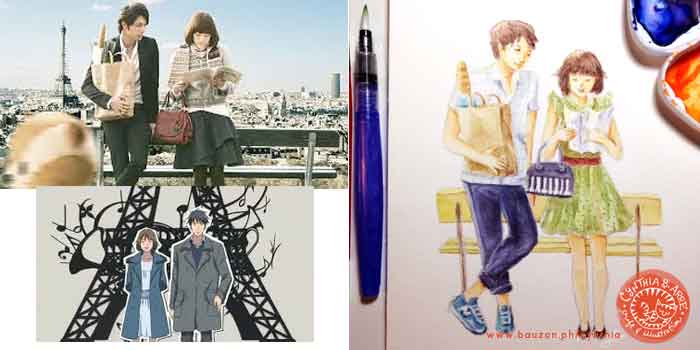 3. For my "Nodame Cantabile" fan artwork, I tried to do the opposite — base the pose on the live action poster and draw them as the anime characters. But I love Ueno Juri and Tamaki Hiroshi so much that I ended up drawing them as they were…. except, again, for the winter clothing. 😉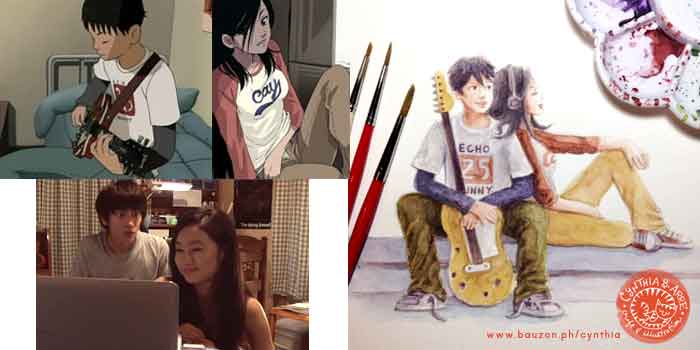 4. My most recent fan art is for the anime series "Beck." Arnold and I love this series, thanks to the recommendation of my brother Calvin and wife Inches. 🙂 The pose in my fan art isn't based on anything but the outfits are inspired by what Koyuki and Maho wore in the anime and the faces are again based somewhat on the actors.
(Slight diversion: To be honest, we thought Sato Takeru and Kutsuna Shiori were miscast as Koyuki and Maho respectively. Takeru was perfect as Rurouni Kenshin but as Koyuki? Koike Teppei would've been more believable… but that's just my opinion. As for Maho, I think Chiaki Kuriyama would've been a more suitable choice. And my biggest issue with the film — why no singing voice for Koyuki?)
***
On another note, I'm excited to use this thing of beauty in my upcoming artworks.
I've been using school-grade watercolors since, well, school (not that there's anything wrong with Prang which has served me well) so I thought it was high time to go a bit more pro. I ordered this Kuretake Gansai Tambi
set of traditional Japanese watercolors as an – ahem- advanced birthday gift to myself. It came in a big and elegant green box with the Kanji characters for "Gan-Sai-Tan-Bi" and inside are 36 big pans of creamy, candy-colored goodness. [insert heart-eyed emoji] The 36-color set includes three glittery paints — gold (kin), blue-gold (aokin), and silver (gin) by the way.
I couldn't wait to try it out so I quickly doodled cupcakes, both in a washy transparent and opaque gouache-like style. It looks thick and creamy at first glance but, depending on how much water your brush is loaded with, it will glide smoothly and as transparent as you want on paper. It appears that I can use these on dark colored surfaces too though I haven't tried that yet. I'll show you more work using these soon!
(Visited 302 times, 1 visits today)