Hi guys! First of all, a quick reminder that my Shrink Plastic Crafting Workshop is happening this Saturday, November 21, from 1-4pm at Hey Kessy in Katipunan .Please head to this link to view the details and/or sign up for a slot. The fee already includes basic materials and snacks but participants can get extra shrink plastic sheets from me at a discount.
Below is an example of what you can learn to make. among so many other fun things, with shrink film. 🙂


And if you're wondering about the doodles in the background of my shrinkydink "sampayan" collar pin, those are some of the illustrations you will find in my coloring book FLUTTERBY.  😀

Thanks to Chamber Shell Publishing, Arnold and I both have our own adult coloring books.
LOCAL COLOR – A Philippine Fantasy Coloring Book features (as the subtitle says) Arn's Filipino fantasy themed illustrations that depict both modern and classic facets of our mythology. Think diwatas, aswangs, people from a techno-future and what-have-you.  🙂  It has 30 of his original drawings contained in 64 9″ x 12″ pages, perforated so you can tear out and frame your finished colored work! SRP is PHP 295.00
A few more preview images from Arnold Arre's LOCAL COLOR —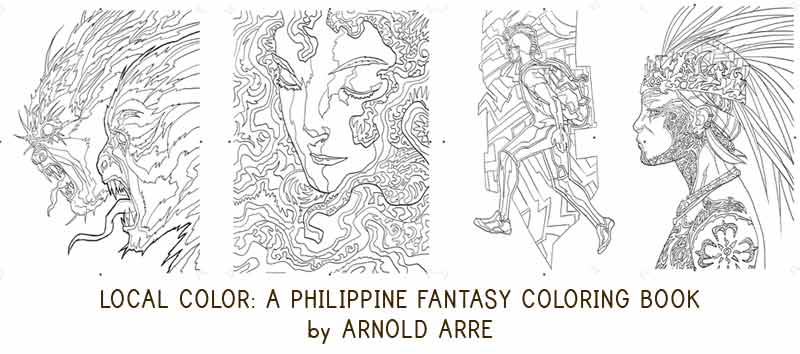 FLUTTERBY – A Daydreamy Coloring Book has my doodles of girls in dreamy, breezy scenarios that typically involve flowers, leaves, and, on occasion, birds, butterflies, and cute furry creatures. There are 20 original hand-drawn pen and ink drawings in 44 pages, also perforated. SRP is P150.00.
A few more preview images from FLUTTERBY —

The covers for both books aren't glossy on purpose so you can color them too if you want! They will be in bookstores soon but you can also order directly from the publisher at orders@nautiluscomics.net for stress-free delivery to your doorstep! Bulk and overseas shipping are available as options. 😀
UPDATE: Limited quantities of Flutterby are now available at my online shop!
I will also be bringing a few of my books to the holiday bazaars which I'll be participating in soon. So far, here is my schedule.
November 28 (Saturday) – BGC Art Mart
December 6 (Sunday) – BGC Art Mart
(unconfirmed date) – Steady Sunday Bazaaro
It might get even quieter here on the blog as I prepare for the art fairs but you can always check my Instagram for (a bit more) regular updates. 😀