(I actually constructed this post as I was waiting for my turn at the dentist's office the other day where I underwent Root Canal part 1. Hope that's not TMI.)
If it's not obvious enough from Instagram, I've fallen in love with painting all over again. I can trace this love from back when I was 4 or 5 when I received my first Guitar watercolor set. You know the one — hard, loose cakes with hardly no pigment in a flat tin case. Fortunately my parents lovingly supported my whims and bought me art books & materials without flinching whenever I needed them. For instance, this slanted drawing board which I've had since I was 8…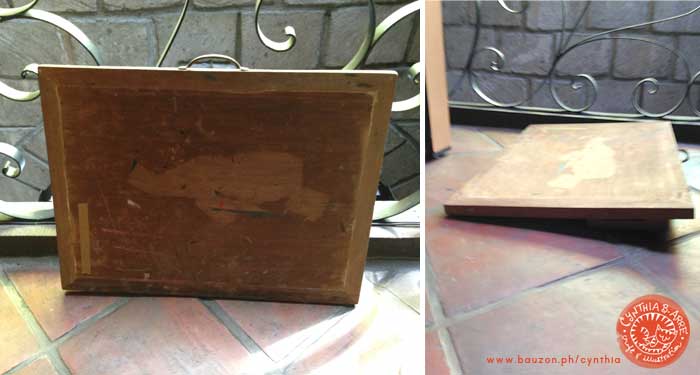 It's filled with old memories of spilled paints, failed sunset wash attempts, and crudely cut friskets (which you can still see traces of). I can't bear to throw it out even if there are better, less clunky, CLEANER tabletop easels out there. Happy that it's getting a lot of use again.
I also went on a mission to unearth old sketch books from my room at my parents' because I wanted to see them again and show them to Arnold. Out emerged a stack of moldy Corona pads filled with yellowing pages of (mostly laughable) illustrations from when I was in grade school up 'til college. Just for fun I'm sharing some of the more presentable ones:
1) These are from 6th grade when I was obsessed with painting trees and Sanrio characters. Kiki and Lala were my faves, as you can see.
2) More drawings from 6th Grade, also because we had "Practical Arts" as a subject. So here are early attempts at figure drawing and lettering. And yes, yet another tree.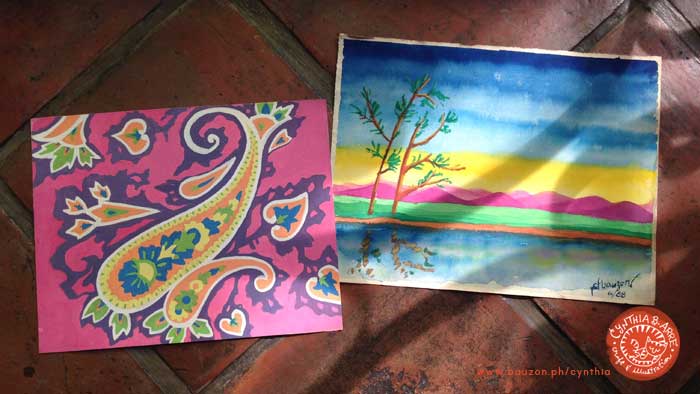 3) Big jump from 6th grade to 4th year high school. I remember being fascinated with paisley patterns and water reflections. Incidentally I made a lot of oil paintings in high school. I think I'll show them another time.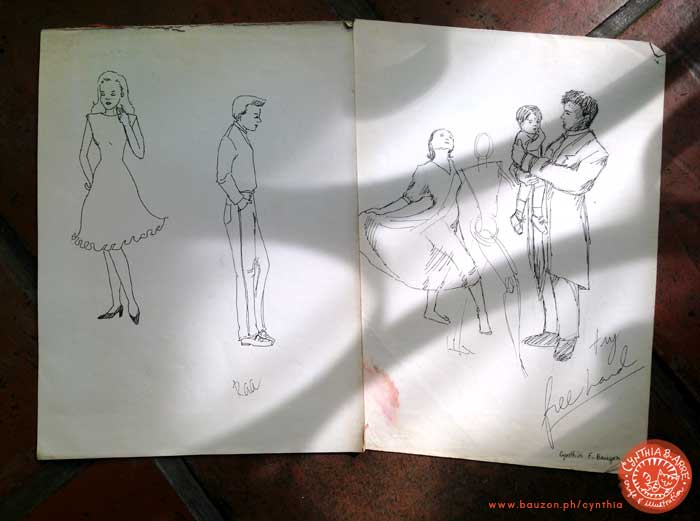 4) These sketches were for Figure Drawing 101 class in college in U.P. where I was fortunate to have had Robert Alejandro as a teacher. All the stiff-looking figures above are mine but the fluid figure guide in between the dancer and man carrying a baby is his. I remember him telling me to loosen up my lines because I was so self-conscious when drawing. I think I still am at times… Anyway. He was also my teacher in Advertising 101 so I have more plates with his signature and advice / comments on them.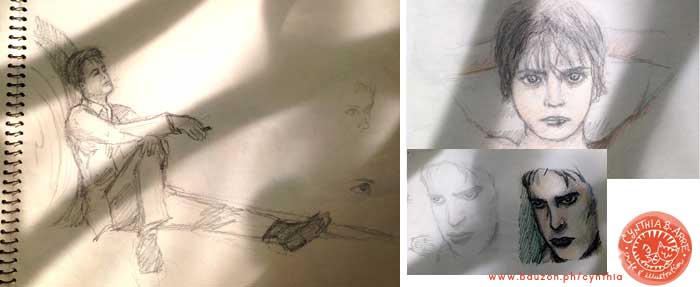 5: More sketchbook drawings from college. Being in Fine Arts allowed me to express myself through illustration. This will carbon-date me but the guy on the left is supposed to be Robert Downey Jr. in "Less Than Zero." The boy on the top right was copied from U2's album "Boy" and the drawings on the bottom right are supposed to be Terry Hall on the cover of The Colourfield's "Confession" album. (New Wave fan right here *raises hand*)
6) Even more drawings from the college years. I don't recall my state of mind when I was drawing the girl and the snake but I must've been in an emo phase (though the term "emo" hasn't been coined up yet. Back then it was simply called "being a teenager.")
And finally, one of my old favorites because I think I was able to capture his likeness without using a grid…
Side note: I was a big fan of River Phoenix since his "Explorers" days — way before "Stand By Me." I used to watch "Sneakers" and "Running on Empty" over and over (on a Betamax, lol). This painting was done 3 years before his untimely demise in 1993. I'm not even sure if it was for class, I think I just painted him for watercolor portrait practice.
Hope you enjoyed this little journey down memory lane.
(Visited 214 times, 1 visits today)