A recent conversation I had with our friend Luis inspired me to ask you guys this question1: Can you name the top five songs you've recently discovered (or rediscovered) while your mp3 player was on shuffle? This way, we'll get to find good music together.
–
I'm guilty of downloading songs then forgetting about them until they creep up on me in shuffle mode. Or sometimes, when I listen to a song for the first time, it doesn't make an impact on me until I hear it again on shuffle. Weird I know but maybe it has something to do with what comes before it. If the song preceding it is blah, chances are the song in question will sound better in comparison, right? So anyway here are the top five songs that's been in my hard drive forever it seems, but only recently 5-starred:
–
1. The Wrath of Marcie – The Go! Team
2. Cigarettes and Chocolate Milk – Rufus Wainright
3. Hospital Rooms Aren't For Lovers – The Bear Colony
4. Beatific Visions – Brakes
5. Secret Someones – Laura Veirs
–
And because Christmas is the season for giving, I've uploaded them for you: tadah! The link is good for one week. So what are you waiting for? Download! Now! 🙂
***
And if you'd like to give me something for Christmas (…awshucks), you can always mosey along to any of my two online stores and buy something for your loved ones.2. The Paper Basket, in particular, carries my Christmas design collection: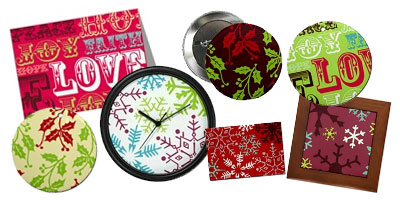 We have keepsake boxes, greeting cards, note cards, magnets, button pins, and all that jazz. And hey, if you buy (or have bought) at least 5 items3 from either The Paper Basket OR Poptastic, let me know via the comments link below and I will send you a FREE T-SHIRT OF YOUR CHOICE4 from Poptastic, oh yes I will. How 'bout that? 😉
***
Just in case I don't get to update again before Christmas, I'd like to leave you with this adorable video from the amazing Sufjan Stevens.

–
Happy holidays!
(Visited 52 times, 1 visits today)