I had the privilege of taking part in Maginhawa StrEat Food Park's first ever art fair titled Palette Palate from August 1-2, 2015, thanks to the awesome Ella Lama who organized the event.  The fair consisted of an exhibit + pop-up shops by some of the participating artists, myself included. Here are the three artworks I displayed (on the counter, last three from the right). They might look familiar because I posted work-in-progress videos and/or just-finished shots of these on Instagram. 😉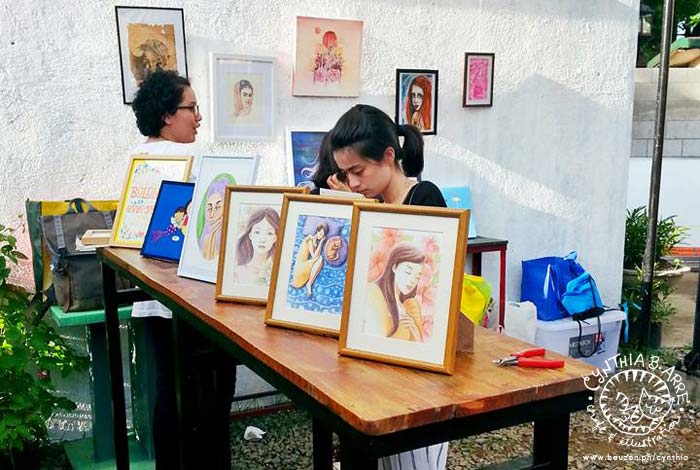 Setting up in the background are Ella (left) and Cheska of StrEat. On the wall from l-r are works by Megan Dino, June Digan, Mary Grace Vinas, and Andrea dela Cruz. This is actually a photo from day 2 because we got rained in on the first day and had to set up at 6 pm, 2 hours later than planned.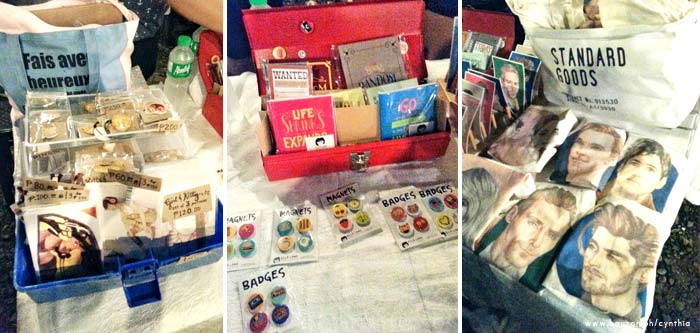 Our pack-up-and-go pop-up shops on the first day. From l-r: works for sale by yours truly, Ella Lama, and Megan Dino.
Handy outdoor craft fair tip (especially helpful during the rainy season) — if your items will fit, you can use a craft toolbox (or any other box with a lid) as a "portable shop". It allows you to arrange and label stuff and you can quickly close it — and protect the contents! — whenever necessary. 🙂
Another learning: have faith in your customers. Given the weather conditions, we initially thought that only a few people would come. To our pleasant surprise a lot showed up, talked to us and bought our stuff. <3 <3 <3 (If you were among those I talked to, THANK YOU! I loved meeting you and was happy to finally see the face behind the familiar Instagram handle. :D)
We were so busy that before we knew it, it was already 10 pm and we hadn't even eaten. 😀 Thankfully, StrEat is open til 2am so there was plenty of time to grab food once the art buying crowd thinned out.
Class picture from day 1 plus a few other snaps of our works in the exhibit. August 2 — Very grateful for much nicer weather on the second day since we were able to set up at 4pm as planned and I also got to take better-lit photos. Some more artworks on display.

Works by Yang Barrios, Alexandra Paredes, Hands Love Papers, Geli Balcruz, and Karen Versoza. More artists were also able to set up shop besides Megan and myself. (Below photo) top left: rubber stamps and cards by Alex Paredes' Rubber Ducky Stamp Co; bottom left: prints by Karen Versoza and June Digan.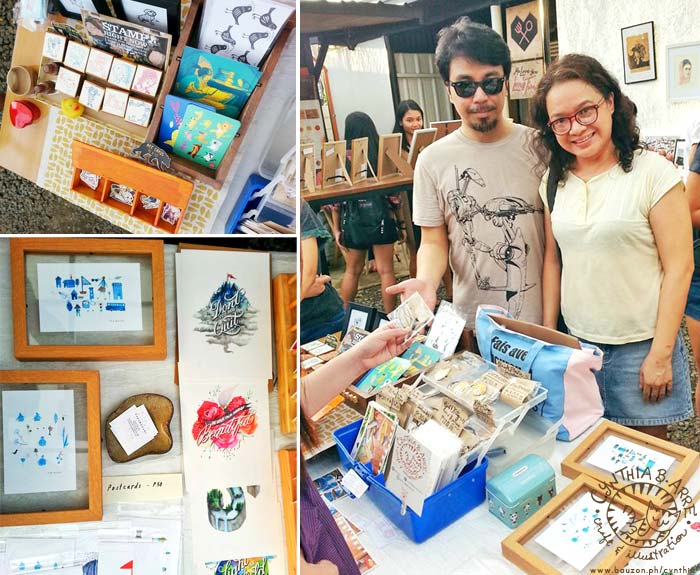 My good friends Earnest and Buddy Zabala dropped by and gamely posed for pics and even helped me sell (woohoo! I love these guys. <3 ) Here they are with my little blue toolbox (looking a bit more organized this time). The evening was a bit more relaxed and I got to bond more with my new friends. These girls are so creative and inspiring! Of course I couldn't go home without buying some of their beautiful creations: 
You can check out the above photo on IG to see their feeds. Included in my loot from Ella, Megan, Alex, Karen, and June are the "Light" book (which was a gift from Rob Cham!), two art cards featuring Paola Jane Esteron's calligraphy & watercolor work (also gifts!), and free brush calligraphy of Arn's and my names by Sarah Francesca of Creative Curiosities. 😀
Finally, an almost-complete class picture which I nicked from Megan's Facebook album ;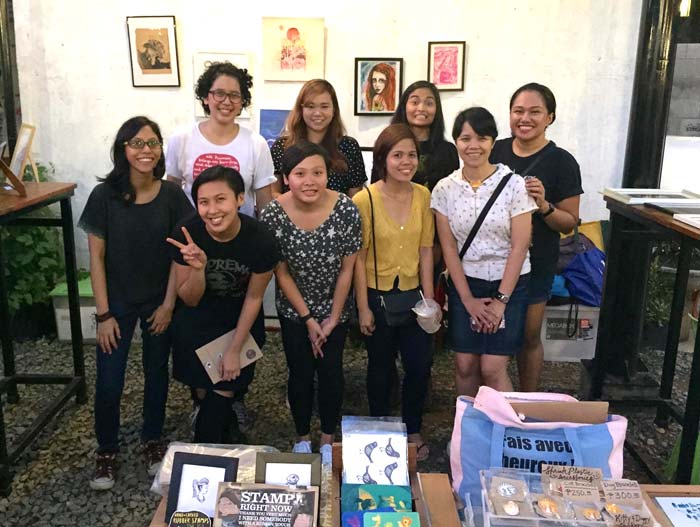 I'm joining another art fair soon! Please stay tuned for more details. Meanwhile you can always check out my feed to see what I'm currently up to. 😉
(Visited 389 times, 1 visits today)