I've been wanting to do a home office makeover1 for the longest time, and it was last month's termite invasion that pushed me to finally do it. I'll tell you why later.
.
First, let me show you what the soho used to look like.2:
.



Ugh, is that a mess or what. Believe it or not, we worked in this kind of environment for close to three years. Arn later relocated to a breezier section in the house since he likes working closer to nature so this office is essentially mine now.
.
The makeover idea was sparked when I decided to lose the highly under-utilized green couch (on the right, behind all the clutter) and replace it with a table I found sitting in our compound's common garage. I decided that I needed a spot to do my art and paper crafting, especially since I already had the supplies but just did not have the space for it. I was actually fine with that slight change for the meantime… and then we discovered that the termites had eaten into the built-in wardrobe3 that housed a lot of our files! Eep! Obviously the best only solution was to tear it down.
.



It was a beautiful piece of woodwork but unfortunately, it's just not meant to house "office" files.
.
Obviously the next problem was where to put all the stuff that was in the cabinet. (And what a whole load of stuff that was!)
.



Dear oh dear. Just looking at that photo makes my head hurt.
.
Three major criteria we considered in buying new storage supplies were (a) termite deterrence; (b) sturdiness; and (b) pocket-friendliness. The industrial shelving and plastic containers we bought all met what we were looking for, and it really helped much that the SM in our area had a 3-day sale last weekend.
.



The office taking shape slowly but surely. Yes that's a Print Gocco PG-5 Abbas is sitting on! Bought it for 6,825 yen at a Tokyu Hands in Shibuya a couple of years ago. See I couldn't even use it before because I didn't have a proper work surface.
.
Suddenly there was so much space and I excitedly put everything in order once the paint dried up. It took about a week and a half for everything: construction, cleanup, and sorting/deciding what went in and out of those boxes and shelves because there were just too many things to go through.
.



Looking good, looking good… now, everything's within reach unlike before when they were stuck in the depths of that gigantic cabinet.
.
And oh, I also found a way to save the handsome narra cabinet doors – we saved what we could of the wood and then had them built into a book case for all my magazines and reference materials.
.



This way, those slabs of wood can still live in their "home". 🙂
.
Here, now, are the token "after" shots of my improved soho. I can definitely see myself working more efficiently in this space… well, granted that it stays neat and orderly. 😉
.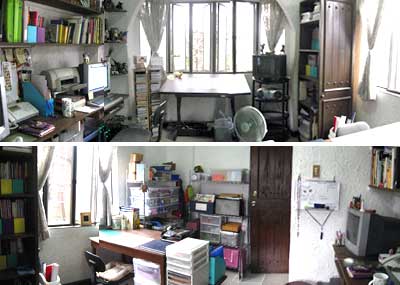 Now to buckle down and work, work, work.
.
Cost breakdown:
– Carpentry work: P400/day for 7 days= P2800
– Zen floor tiles (10 pcs) = P465.12
– Paint, primer, paint remover, cement= P545
– Varnish (for bookcase and table)= P190
– Industrial shelving: P2,200 x 2 = P4,400
– Plastic containers (on sale) = P3,000
TOTAL: 11,400.12.4
(Visited 41 times, 1 visits today)