My husband Arnold released a new graphic novel called "Halina Filipina" last weekend at the Komiket, his first one since "Martial Law Babies" in 2008, and I for one am glad that he's back making comics again — which is actually what he was doing — and what he was quite known for — when we first met.<3
It's not like he was idle for the past 7 years though — he directed, animated and won awards for short films such as "Milkyboy," "Lakas ng Lahi," (among many others) and a music video for our own National Anthem "Lupang Hinirang." 🙂
That's my hot-off-the-press copy of "Halina Filipina" when our copies arrived from Nautilus Comics last Thursday, a couple of days before the launch. Look at how our kitty was excited to read it as well! You can see the synopsis here, but I'd also like to share with you a few in-the-making notes. (He also wrote about this at length in the afterword.)
Arnold wrote Halina way back in 2002 when we weren't even married yet. It's first incarnation was of a simple love story with a bit of social commentary here and there but he decided not to release it because he didn't want to follow up his previous novel "After Eden" with another romance book. He ended up releasing the Pinoy fantasy and action-filled "Ang Mundo ni Andong Agimat" instead. Thus the Halina pages were kept in storage for many years.
Sometime in Jan or Feb of this year, we chanced upon the pages while organizing our files. We pored over them together and I asked him if maybe he give it another chance? At first, Arnold considered turning it into an animated short. We even talked to our favorite voice actors but somewhere along the way, Arn decided to re-write and re-draw some of the pages — actually most of them. He worked on the story for the next couple of months, and once it was done, he finally let me read it.
I liked it before, but I loved the new and improved "Halina Filipina" written and drawn by the 2015 Arnold even more. It's not the same simple love story I read 13 years ago, it goes much deeper. Through the characters Halina and Cris and subtle details in the background scenery, Arnold inserts personal statements about social class differences, Philippine mainstream media's stranglehold over the viewing masses, and other inevitable developing-nation issues (*cough* traffic *cough*). Of course not to be missed is the ultimate message about finding one's identity through appreciating one's roots, flaws and all. And when you read it again and again, the subtext becomes even more apparent. That's how much thought Arnold weaves into his works — he truly makes them a complete reading experience. I won't go all spoiler-y on you but my only wish is that you will love and appreciate the brains and heart he put into it as much as I do. 🙂
Meanwhile, below are some photos from the launch. Inquirer also wrote about it along with a short interview with Arnold here.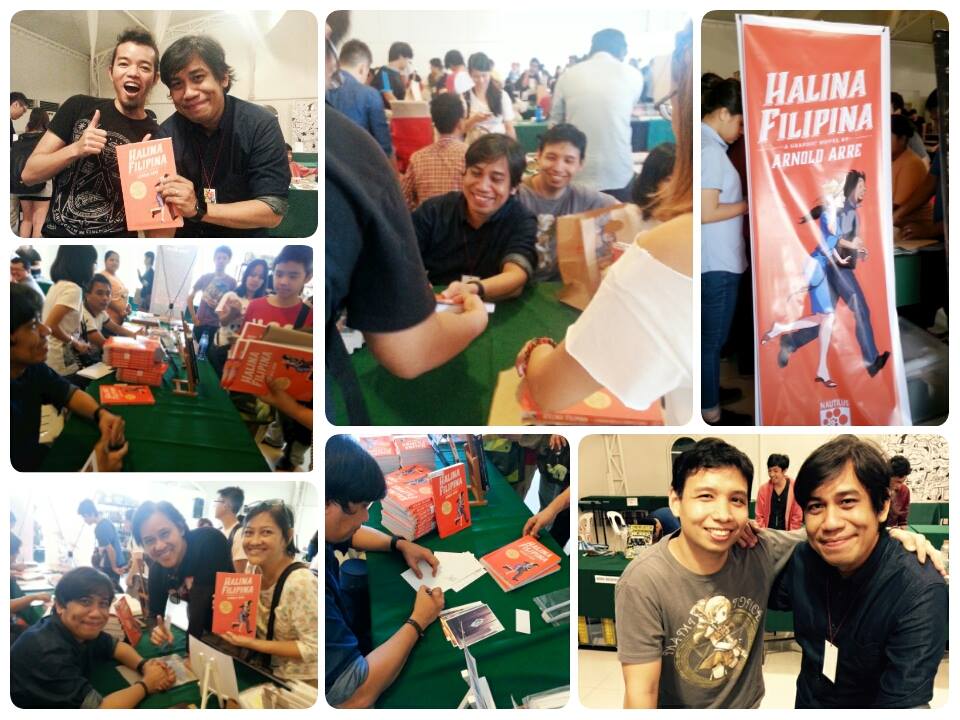 Thank you to everyone who joined us that day and endless thanks to Jamie & Iyay Bautista of Nautilus Comics for publishing and making it possible for all of you to read it. It's not in bookstores yet (as of this writing) but you can order online through orders@nautiluscomics.net .
***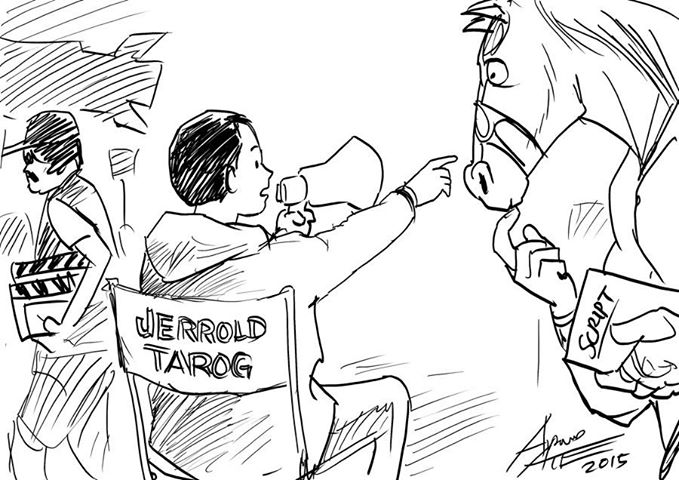 A quick cartoon sketch Arnold posted on FB to confirm the rumors that were going around…
And since I'm devoting this entire post to my husband, I might as well write a bit about "The Mythology Class" movie project with the hugely successful director & producer tandem of Jerrold Tarog and Artikulo Uno. Not to preempt anything but since Mr. Ed Rocha already gave a statement that they're developing an adaptation of Arnold's graphic novel, and more recently Jerrold gave this slightly more detailed interview about the project, then I suppose I can tell you that yes Arnold had a couple of meetings with the producers early this year, and we are both thrilled that Jerrold — whose work Arnold has always admired and raved about for years (go ask our friends!) — way before he even started making "Heneral Luna," — is on top of this project. However it's still very early to say anything more so for now, let's just cross our fingers that things will go well. If you haven't read the book yet, please do check it out. (It's in bookstores but you can also order "The Mythology Class" online via orders@nautiluscomics.net ) .  🙂
***
Also thought you might be interested in watching Arnold's talk at TEDxDiliman in October of this year. 🙂
From TEDxDiliman: In this talk, Arnold Arre shares his personal journey to develop his art, and reveals how comic books can both reflect and serve as a tool to promote Philippine culture.

(Visited 619 times, 1 visits today)