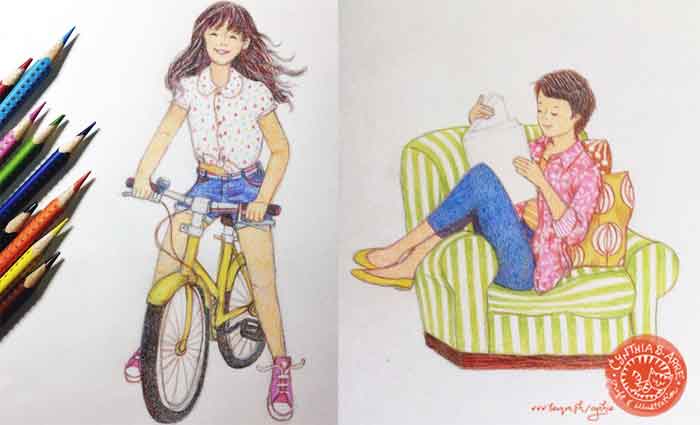 Figure drawing has always been my crutch so I've been re-learning the basics lately. Well I had a lot of practice drawing people back in art school – in fact we had an entire semester devoted to it but after years of relying on digital tools, sadly my skills deteriorated over time (see proof in my art style evolution blog post). Among my resolutions for the year was to hone whatever skills I developed in my early years and pick up where I left off.
I don't post them online but each night for the past month I would draw human forms in different positions and let Arnold (who obviously is a whiz at figure drawing) check them for flaws. Below are some initial practice sketches from a month ago (waaah, don't laugh 😳 ).
Now you know why I've always been drawing cartoon style, I was pretty bad at realistic figure drawing. Arn is a very strict teacher actually, he would give me drills and make me re-draw over and over until I would get details right. (He *should* hold workshops, don't you think?)
It really helped me find the right path again and soon, I was able to draw those colored pencil illustrations posted above and this one below.
More soon, guys. I'm also busy working on an interesting personal project which you'll see work-in-progress pics of in my Instagram.
(Visited 156 times, 1 visits today)