Last time, I promised I would share test watercolor illustrations I've done using my Kuretake Gansai Tambi paint set. Well it turns out I'll be showing more than that because Arnold surprised me with a 24 half-pan set of Van Gogh watercolors which of course I couldn't wait to try out too. <3 🙂
For consistency (and because I didn't want to waste expensive paper 😥 ) I used an P88.00 Daiso / Saizen children's waterolor pad for the studies. They turned out nicer than I expected but the paints will surely look much better on Canson, Arches and other artist-grade watercolor paper.
1) Sample watercolor portrait rendered using the
Gansai Tambi – 36 half-pan set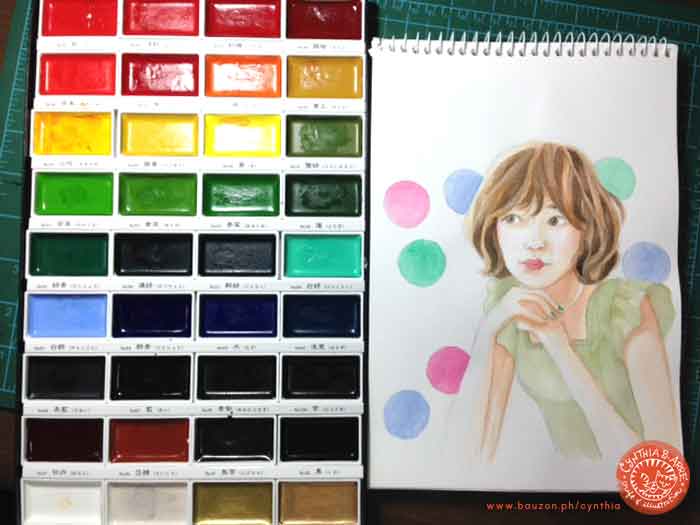 This set is supposedly artist-grade. It comes with metallic colors, are semi-moist, and can be used for both transparent and opaque (like gouache) executions.
Some notes: I'm so used to Prang's transparency that using this for the first time was a bit of a challenge because the colors are dense and rich so half the amount of layering I'm used to was necessary. It also took me a while to figure out a good flesh tone mix because there were so many options for red, yellow, and orange. I guess these are all happy problems, 'no? The variety of colors provides endless possibilities and I can imagine that these paints will last a long time since a little goes a long way. I also noticed that the colors remained vibrant even after the paint dried.
The set is really big by the way which means it probably won't be leaving the house with me. Or I could take individual pans I need and put them in a little tin to make a portable version… but that's too much trouble, and that's what the next paint set is for.
2) Sample watercolor portrait rendered using a Van Gogh 24 half-pan set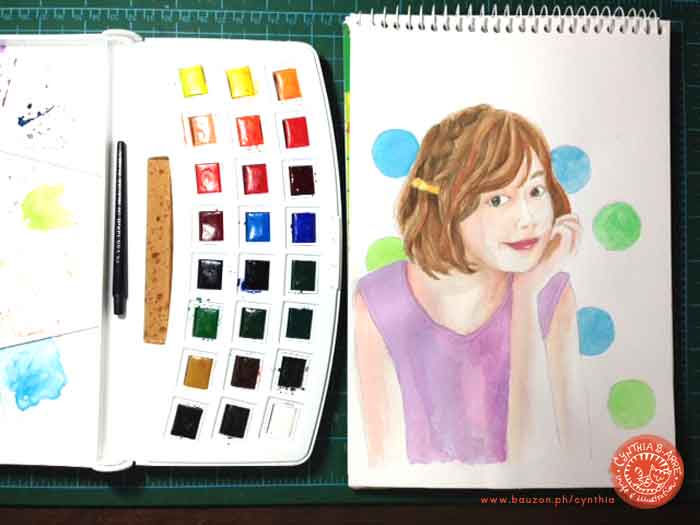 Some sites like DickBlick have listed these paints as artist grade since they are said to be lightfast and archival but others have bunched it up with Cotman as high-quality student grade. (Apparently Royal Talens uses the same pigments for these as they do in their artists range.) Since I usually digitize my artworks I'm not sure if that matters. However, I was surprised with the brilliance of these paints, again compared to Prang and even the Gansai Tambi. The cakes aren't as dense as Gansai but the colors are just as intense and a little swipe with the brush goes a long way,  Transparent washes are easy to achieve and the colors remain vibrant even after the paint has dried. I also love how watery color puddles form little pigment outlines once dry.  Oh! And if you draw people a lot, this palette already comes with "Naples Yellow Red" which is a perfect flesh tone base. Love, love, love Van Gogh. <3
3)  Sample watercolor portrait rendered using a 16-color Prang watercolor set
Ahh but I still do love Prang. It's very affordable, it produces beautifully transparent washes, and is fantastic for layering. I've been using the brand since high school and this one below is already my third set. They last a long time with me since I tend to use a lot of water. 😉 Just to compare, here are recent watercolor portraits I've made with Prang.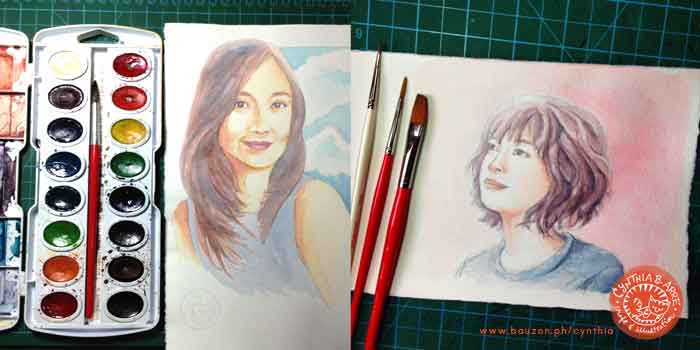 These illustrations were drawn on high quality 180 gsm Arches paper just last week but here's where we can see the difference between student and artist grade paints. Obviously Prang's colors don't retain their brightness as well as Gansai Tambi and Van Gogh. If I'm going to scan the artworks anyway, Prang should be okay, but for portraits that will be displayed in brightly-lit conditions, it seems I'll have to go with the more fade-resistant paints.
***
…Wait, there's more! Actually, Arnold also gave me this Bienfang Watercolor Brush Pens
 set (he really wants me to keep painting, doesn't he? 😆 ) which I'm having a hard time getting used to because of the intensity of the inks. I think it's best for more comicky-looking illustrations, like below.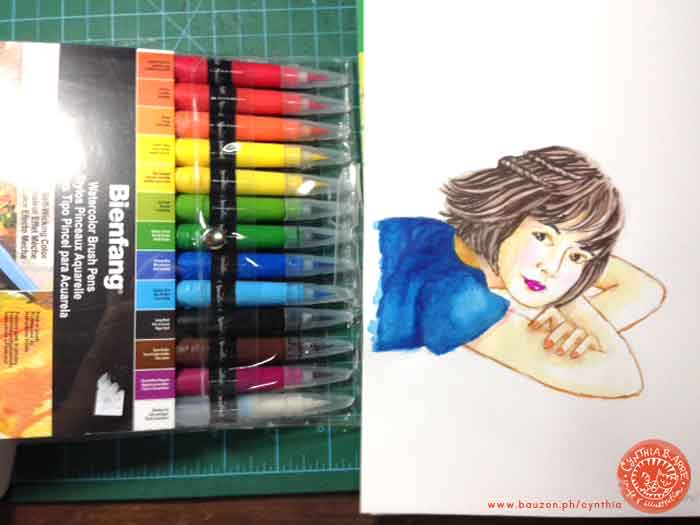 Not sure if you can tell but I had a difficult time rendering her blouse and neck. 😳 I'll post more work using these pens soon.
Hope you enjoyed this watercolor comparison and review of sorts. What are your favorite watercolor brands? Do leave a comment to share your faves!
(Visited 6,502 times, 1 visits today)