Thought I'd share this before and after image of the shrink plastic "Sampayan" ("Laundry Line") necklace I made the other day. See how those drawings shrunk down to about 1/4th of their original size? They also grew about a millimeter in thickness and the colors got more saturated. Here's a closer view:
I used Frosted "Ruff and Ready" Shrinky Dinks Shrinkable Plastic
sheets to make these charms. My favorite thing about these sheets is that one side has already been machine-sanded so I can draw directly on them with colored pencils. The other side is glossy and when it shrinks, there's no more need to coat the front with glaze. I don't know if you can see it in the pic but I love how nice and glossy they are. It's almost like these charms were cast in resin.
***
Another reason for this blog update is to announce that one of my designs is featured on RedBubble's front page among the curators' picks for the day. #kilig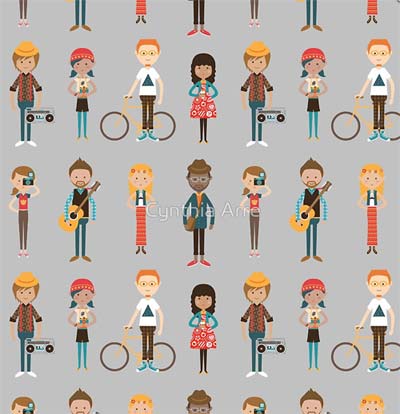 "The Cool Kids" on FOUND by RB
If you're interested, you can also purchase this design on iPhone covers on RedBubble, and on wristlets, wallets, and even plates (yes) on Zazzle @ Funky Patterns. And for you crafty cats, fabric printed with this pattern (on either a pink or blue background) is also available starting today in my Spoonflower store. If you ever get to use it on your projects, please upload a photo of your finished project on there ok? 🙂