In an alternate reality, the Eraserheads actually released an 8th final full-length album titled Waltz This Knee containing 8 new tracks by the Philippines' fab four. This is the album's wraparound sleeve that I designed: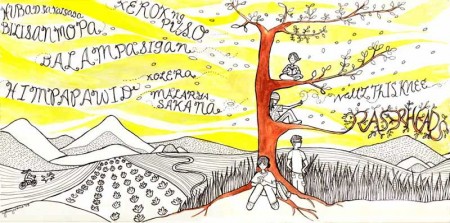 In this reality however, the revolutionary team of Uno Magazine invited me to illustrate a piece written by rock music journalist Aldus Santos about an imagined final Eraserheads album for their special April 2010 (Fiction) issue. Here's an excerpt:
"In February of this year, I got an unmarked brown envelope that bore the label "Hubad sa Kalsada [Mix-Down 001/2007]." Inside was a CDR. Playing it back, it revealed a bare, guitar-and-voice recording bearing that unmistakable falsetto (with the voice double-tracked, and with a bit of slap-back echo, a la Spector's Lennon recordings, as in "Instant Karma"). It sounded sort of gothic folk, but sang in falsetto. This was most unusual. Insanely enough, I sometimes get unsolicited demos over e-mail from indie bands who ask for professional advice — to which I invariably say, "I'll be as much help to you as a sack of hammers; see if there is a listing under 'Rico Blanco' in the white pages" — but this can't be one of those demos. More to the fact, it is unmarked. I personally brought this up with suspect number one, Ely Buendia, but he unnaturally shifted gears, "You know what we don't hear a lot? Good whistlers." Such a strange, eyeliner-wearing man."
Read the rest of the story in Uno Mag's April 2010 issue. It's on a limited run and is only available until May 5, 2010 so hurry and get your copy now! Learn more about this special issue on the Uno Magazine website.
***
There are plenty of projects afoot but since I'm not allowed to say anything about them yet, I will just leave you with some new illustrations I made over the past few weeks for no particular reason. If I make more and have them printed as postcards, will anyone buy them? Let me know what you think. 🙂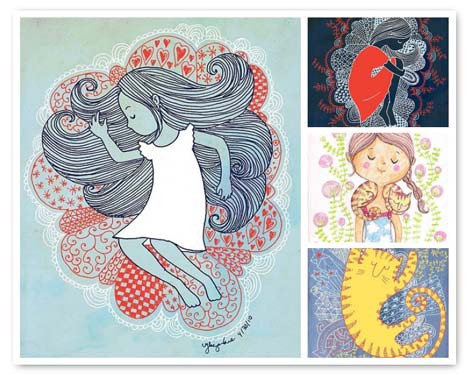 1. Dreamtangle 1, 2. Dreamtangle 2, 3. Pigtails, 4. Sleeping Kitty