Years ago National Book Store was the only easily accessible place where you can buy arts and crafts equipment here in Manila. Well there was Joli along Espana and Artek in Delta but they were quite far, and online shopping — let alone the internet — was unheard of at the time. So by default NBS was The Mothership and to be fair, selection wasn't bad. It's just that compared to today, we had a very limited range of art materials to choose from.
And now — okay I don't know when exactly the local arts and crafts movement boomed but it sure happened when I wasn't looking. Very pleased though that I don't have to turn to DickBlick or Amazon's Arts, Crafts & Sewing section for supplies anymore since I can now easily get them locally and from within the comforts of home, no less.
If you check my Instagram feed, you'll see that I've been into honing my analog art skills since late last year and I've explored everything from rubber stamp carving and shrink plastic crafting to watercolor painting and even lettering. Here are the stores I've been getting all my crafty goodies from. There may be more out there but I find the following shops' inventories sufficient for my needs.
(Updated on Jan. 6, 2018)
ARTWHALE – an online store that carries beautiful not-so-commonly-available paints like Korea-based Nicker fine art gouache (a.k.a. the brand that Ghibli Animation Studio uses), Japan-based Turner Colour Works Acryl Gouache, Peerless Watercolors (a vintage American brand known for highly pigmented watercolors in sheet form), and Shin Han Art Korean Watercolours. The proprietor Kuki is very friendly and knowledgeable about their products and customer service is top notch. (Please refer to this newer post for the full story. :D)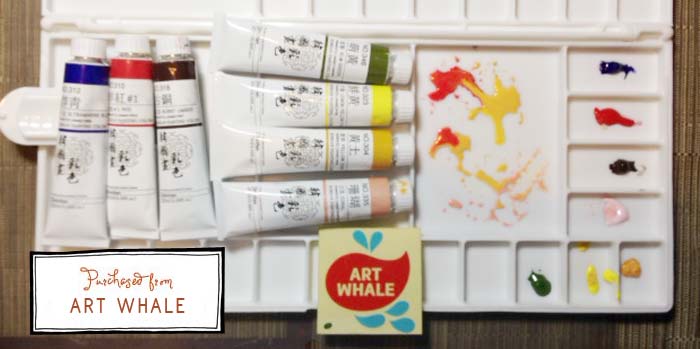 They have pop-up stores every once in a while so I recommend following their Instagram account to see if they'll be in a bazaar soon.
CRAFT CARROT – an online store based in Loyola Heights, Quezon City. They stock artist paints & paper, calligraphy tools and inks, sketch markers, and rubber stamp carving supplies. I got my two-tone carving blocks — 4″x 6″ and 2″x 2″ round and square blocks — from them (see below). I also purchased a few of the inexpensive "Craft" brand ink pads. I don't think they're archival though so I just use them for testing my stamps.
I'm not sure if they have a physical shop since their website says you'll have to set up an appointment before visiting their office but ordering online is quick and painless. I've already purchased from them twice and both times I received fast and friendly service – "friendly" meaning there is actual communication from the shopkeepers, not just automated replies. 🙂 Also, they use Xend.com for shipping so you'll be sure to get your items within 24-48 hours upon receiving confirmation for your order.
HEY KESSY – another online store with an HQ in Loyola Heights which I believe is a physical shop. They sell washi tape, chalk markers, air dry clay and a good variety of fun crafting supplies. They're the only place I've found that carries Tsukineko VersaCraft Fabric Inkpads
(pigment-based, archival, and acid-free) and Speedball Speedy-Carve Carving Blocks
, currently the biggest (and priciest) ones that are available locally. These blocks carve like butter — no, wait. Like konnyaku jelly! Soft and jiggly! — so I use them for special, intricate designs.
I can also say that they know how to make their customers feel special. Aside from the friendly correspondence, they sent me that adorable postcard on the left. Look at how the items were packaged too. It was like opening a gift. (It's all in the details. 🙂 ) I'll definitely buy from them again — but first, I need to use up my blocks. As with Craft Carrot, you can receive your items within 24-48 hours.
CREATE CRAFTS – a.k.a. CreatebyTLF is another online store based Quezon City. There is no physical shop but they have a display at Mrs. Graham's Store in Scout Rallos which is restocked twice a month. So far I've bought 1.75″x 3.5″ eraser blocks (sold by the dozen!) and Japanese keshigomu carving blocks (smaller than the ones from Craft Carrot and Speedycarve but they carve just as smoothly), Kuretake ZIG Clean Color Real Brush markers
, and Speedball Lino Cutter spare blades
.
When you buy from their site, you have the option to create an account which facilitates ordering in the future since you won't have to input your details all over again. Becoming a site member also entitles you to occasional perks like free shipping — just keep your eyes peeled for promos (I was able to avail of that last December.)  I'm not sure if they really don't update customers with tracking numbers via e-mail but my purchases appear at my doorstep right on schedule which makes up for the lack of communication.
BEE HAPPY CRAFTS – is a crafting and party supplies store in Caloocan, open to customers on Saturdays but you can also order from them online. They stock a lot of scrapbook and journal-keeping goods like stamps, stickers, scrapbook sheets, punches, cardboard stock, ribbons, etc. They're also the only place I've found that stocks unbranded shrink plastic locally. I've ordered a few sheets of the Inkjet shrink plastic and have found that they hold ink well and shrink almost exactly like the Shrinky Dinks-branded ones that I bought from Amazon (please see my Instagram feed or the previous post for examples of what I've done with the material).
The Inkjet sheets are a little pricey at P90/piece but I'm glad to have an option to ordering them from overseas. I've also bought some cardboard stock from them for mounting. The site is easy to use and you will receive email confirmations for your order. You may also follow up with them through sms.
… and finally DEOVIR
I love that they have physical stores in malls which means that I can get my materials on the same day I need them. The selection in their SM North Edsa outlet is impressive and Arnold has been buying his Micron drawing pens, watercolor paper, and comic tools from there for years. You can also buy from them online but I haven't done so yet since SM is close by. Also, there are items in the physical stores that aren't on the site so it's more advisable to swing by the actual shop and see the merchandise first hand.
I'd love to know where you shop for your art materials. And if you know of other stores that I may have missed (or don't know about yet), do let me know in the comments!