[Last entry: "Deanna's demise + cutting the umbilical cord"] | THIS WEEK | [Next entry: "Dulzzi et Gabbana"]
December 13:
Sylvania Mania
I'm currently deadset on owning one of these: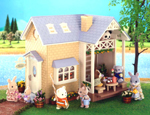 A house of Sylvanians! (not to be confused with the House of Silvanas, heh)
Arn gave me a huge giftwrapped package the other day and I have a feeling that inside is the particular Sylvanian dollhouse I've been saving up for (although he denies it, in an attempt to preserve the surprise factor). Sweet thing.
***
Hey now, I almost forgot that the C3Con is happening today at the Megatrade Hall. We can't be there like last year but do check out our friends' offerings for you graphic novel enthusiasts -- Marco and Dean have the scoop. I think Robert will also be around to peddle his and Shirley's pets.
Incidentally, my Arn's After Eden was just reprinted after Adarna sold out all the initial copies, woohoo! Please please grab a copy if you haven't yet. (: (Sige na, wedding gift nyo na yan for us.)
4 comments
Hi Cynthia! Saw those in a toy shop in Powerplant and I wanted to buy also! Yun lang, talagang hindi ko kailangan so nagpigil ako. :(
Anyway, merry Christmas and congratulations! :)
Posted by Cha
Dec 24 | 09:17 AM
hi again! i emailed you the link :) i'll definitely check out the sylvanians when i get to manila :)
Posted by Anne
Dec 17 | 09:22 PM
Hey Anne! You still
haven't given me
your blog's URL (:
Sylvanians can be
found at the big toy
store on the 2nd
floor of Powerplant
Mall. I think the'yre
available at Toy
Kingdom too.
Happy pet-hunting!
Posted by Cyn
Dec 17 | 04:42 AM
hi cynthia! where can we buy these? ang cute!
Posted by anne padillo
Dec 16 | 10:23 PM