[Last entry: "Webbed Feat"] | THIS WEEK | [Next entry: "Weddings all around us"]
November 27:
Tantananan, I'll be Mrs. Cynthia B. Arre in a month...
Wow, I'm marrying Arnold in exactly one month's time! Seems like it was only yesterday when I wrote this. (:
***
I guess it's also a season for career talks. (You know you're getting old when you keep getting invited to talk in these things.)
A bunch of us friends in the creative industry gave one to a class of around 40-50 bright-eyed Ateneans. My bit was mostly centered on building a career in advertising and eventually freelancing as a designer -- a career path I'm kinda well-versed in, having lived it firsthand.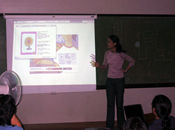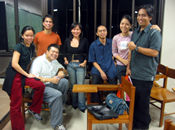 L-R: graphic designers Lizza and Gabby, photographer Toto, writer Maya, web & print designer J, myself and my Arn.
The very next day, Arn had a career symposium in UP: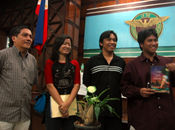 L-R: UPCFA professor and children's book illustrator Sir Totet, Ateneo professor and children's book illustrator Panch, my Arn, and Carlo of UPEDSOC.
***
We barely get to go out and see friends anymore but we managed to sneak a quick dinner with Ramon and Neva a few weeks ago.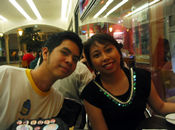 And oh, can I just tell you that Mary Kay's skin care line is absolutely fab?! Nev treated Arn and me to a skin care session and since then, we've gotten hooked. The products are really affordable compared to the stuff you see in beauty bars (considering that it's a complete 4-step line I'm talking about here) and my skin hasn't felt this soft since my pre-teen years. Surprisingly, Arn doesn't even complain whenever I insist on applying creamy cleanser on his face -- see that's how refreshing it is.
***
And now, to make up for my 3-week silence, here are a few pics of the wedding preparations-in-progress: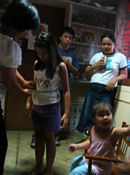 Two of our pretty flowergirls! That's my cousin's daughter Lian being measured. Little Veda awaits her turn while daddy Buddy and mommy Nest look on.

Invites being sealed.

A stack of acetate boxes for our favors. I don't know what got into me but making every single one of them by hand was my bright idea. We're now down to our last 50 *groan*
9 comments
hej cynthia,
it's nice to be young and succesful and to have somebody to share it with huh!!!! Best wishes and congratulations to both of you. you are both talented and have the makings of a great partnership....enjoy every of it.
marie
Posted by marie
Dec 05 | 12:08 PM
wow wedding!!! congratz........ and btw nice site!!
Posted by markey
Dec 04 | 06:36 AM
WOW!!!
CONGRATULATIONS!!! Hope the wedding goes wonderfully perfect!
:-)
Posted by tobie
Dec 03 | 08:30 PM
Bilangin na ang araw..."On the frist day of Christmas, My True Love gave to me..."
Posted by Junnie
Dec 01 | 05:07 PM
Aaaaah!!! Malapit
na! Remember -
the rings! the
rings;)
Posted by N:)
Nov 30 | 11:06 PM
hey! thanks so much for the free plug!
And i can't wait for the wedding too! what's the color scheme by the way? :)
Congratulations!!!
Posted by Neva
Nov 29 | 10:13 PM
God, i miss blog hopping. hey! i'm so excited for you and arn! yippee!!! and yes, mary kay rocks! i love the non-oily moisturizer! neva rules!
Posted by alia
Nov 29 | 09:02 PM
Wow, siguradong super enjoy (+hectic) ang mga araw na ito...ilang tulog na lang...
ingat and regards!
Posted by Sharon
Nov 29 | 03:42 AM
Hi Cyn! a month to go na lang! (Im)patiently waiting for your wedding kwento and pictures! Nice boxes by the way! :)
Posted by jen
Nov 28 | 06:52 AM