[Last entry: "Choco Bags and Dune Trivia"] | THIS WEEK | [Next entry: "The wedding planner."]
February 27:
Japan-themed entry
Skirts painted to look as if you can see through them are supposed to be all the rage in Tokyo. Now I don't know how true this is as I only got the pic and info from a forwarded e-mail, but in Japan, anything is possible ne?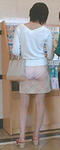 This is actually the most conservative of the lot. (Click to enlarge)
***
Speaking of Japan, my friend Jenny is here on vacation from her studies at Sophia and last week we got together to catch up on kwento over Ostrich a la Poivre* at an African-themed restaurant called Moomba. I was wary about eating ostrich (aww the poor innocent bird!) but when the dish was served, I completely forgot I was eating poultry -- the pieces were dark and looked and tasted very much like beef. The difference is that it felt lighter in the tummy afterwards.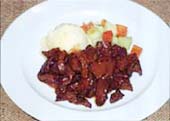 Jenny and boyfriend itchyworms' Kel
*Kelvin's reco.
***
My dad got me a copy of Non-No: More Wedding, a voluminous Japanese bridal magazine whose clean layout and eye-pleasing visuals will make anyone forgive captions like We have just get married or Be a nice wedding, hehe. Arn and I are going crazy looking at the unique minimalist designs for gowns and groomswear, ceremony decor, and other nice stuff that we never saw in any of the local wedding rags (or even those thick American magazines -- except Martha Stewart's which always deserves a read-through). Galing lang.
9 comments
haha alia!
Posted by meg
Mar 02 | 06:42 PM
next thing you know, they'll be making blouses with fake see-through boobs. :p
Posted by alia
Mar 02 | 11:51 AM
if you ask me, theyre great. specially for people with no pwet like me. hehe.
i miss you gen.
Posted by meg
Mar 02 | 05:35 AM
Never mind the first part of my previous posting. I finally got "it". ;)
Posted by Jenn
Mar 01 | 10:40 AM
Umm... J, it's not really a see-through skirt. It's a fake see-through, with an image of someone else's bum & underwear to catch attention, but not really expose the wearer.
I think those things are true. Japan seems to have a fascination with wearing "transparent" clothing: here's another one
Posted by Jenn
Mar 01 | 10:37 AM
First the noodle string bikinis (via email too), now suggestivlely painted skirts -- ecchi ne? ;-)
Posted by Luis
Mar 01 | 07:46 AM
Looks like that pic with the skirt print is a fake. The legs are lined up with the actual 'print', hehe. May be 2 pictures - the actual thing superimposed with a skirt.
Asteeg sa Moomba. Tagal na rin namin di nakakadaan dun.
Posted by J
Feb 28 | 03:22 PM
I'm not in Japan, but I think it's true. I saw a story about it on Entertainment Tonight or some such show. I guess it could be better than looking at the real thing!
Posted by Amy
Feb 27 | 08:37 PM
oh, were those painted on? i'm disappointed. :) i got the same email and i thought it was either real or one of those xray things (like the big fiasco with recalled camera lens a few years ago).
looks like wedding planning's going well. counting down the days :)
Posted by nic
Feb 27 | 07:31 PM