[Last entry: "Artsy plugs."] | THIS WEEK | [Next entry: "Arnold's Ateneo talk."]
February 07:
Furry invitations?
I've been hanging out lately at Paper-Girl's. If you're looking for unconventional ideas for invitations and other printed stuff, do not miss out on her funky collection.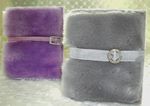 This is a wedding invitation, I kid you not.
9 comments
Hey thanks Alia!
Am glad you like it
(:
Junnie -- hehe. di
pa yata eh! Anyway
her songs are very
nice so itll be
worth the wait (:
Posted by Cyn
Feb 11 | 01:58 PM
Is it out yet? Tell me, is it out na?
Posted by Junnie
Feb 11 | 01:06 PM
hey! i love the design. sobrang simple that it stands out when you put it between other cds. really, it does. :)
Posted by alia
Feb 10 | 01:46 PM
Junnie! When the
album is released
na I'll divulge the
identity of the
mysterious
Domino lady.
She's the sister of
a popular rockstar
(:
Posted by Cyn
Feb 09 | 05:14 AM
off topic: I was playing around with the latest Domino's "Fair Tales" CD cover, and I enjoyed clicking the front, the CD, and the tray designs...doing that a hundred times I'm beginning to have a crush on the leftie lady... :) (back to regular programming)
Posted by Junnie
Feb 08 | 12:22 PM
Hi again! Actualy
we came up with
our own, and sure
I'll post it after the
wedding. Thanks
for reading my
blog! Maybe
someday you'll let
me know who you
are (:
Posted by Cyn
Feb 08 | 06:21 AM
Will you post it after you send them out? Are you getting your invites off the site? hehehe! Sorry I just love hearing about wedding plans
Posted by JustMe
Feb 08 | 12:52 AM
Hello "JustMe",
err... no. (: I won't
be posting our
invites, it'll spoil
the surprise for the
guests (:
Posted by Cyn
Feb 07 | 08:28 PM
How CUTE!!!!!! are those going to be your invites?
Posted by JustMe
Feb 07 | 07:57 PM