Our visit to the NHK Studio Park in Shibuya (October 25, 2006) is another1 experience that Arn and I really enjoyed. It's situated within the NHK Broadcasting Center, headquarters of Nippon Hōsō Kyōkai, Japan's major public broadcasting company and is home to a variety of news, educational, sports, musical, and popular anime and TV drama programs. It's a pretty cool attraction for young and old alike, and the great thing is you don't have to understand Nippongo to be able to enjoy the hour-long tour.
Getting there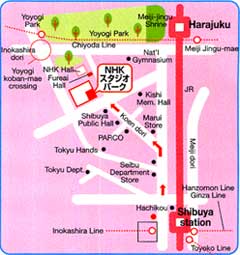 It's about a ten-minute walk from the JR Yamanote line Harajuku station and a 20-minute walk from Shibuya station. You can also take a shuttle bus from Shibuya station for 150 yen (adults) / 80 yen (children). What Arn and I did was we got off the train at the Harajuku Station, walked along the rim of Yoyogi Park through the Tokyo National Gymnasium and then crossed over to the NHK compound. It's easy to find, just go towards the direction of the tall buildings with the satellite dishes.
Admission
The Studio Park is open from 10am to 6pm everyday. It's closed every third Monday of the month (or the next day when Monday is a public holiday) except in August and December, and from December 25 to 31. Admission is 200 yen for adults, 150 yen for Senior high school students and free for Junior high and Elementary school students or younger.
The Studio Park Tour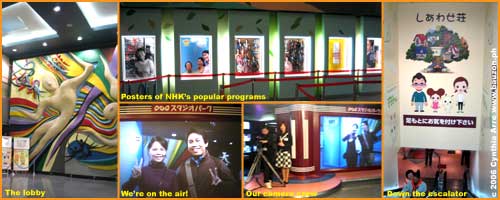 In a nutshell, the tour is basically a behind-the-scenes peek, complete with exhibits and interactive demos, of how TV shows and radio broadcasts are produced in the NHK Studios and it consists of 16 stations.
1. The Welcome Studio. Surprise! That's YOU on the 150-inch TV. Upon walking in, a camera man (or lady, as in our case) will focus a TV camera on you and your image will be splashed across the huge Hi-Vision display. Hi-Vision is NHK's HDTV system and it uses a wide-screen format with a 16:9 aspect ratio, as opposed to the conventional 4:3, which provides an extra powerful viewing experience.
2. BS Digital Town. Here you'll see a presentation of the features of BS (Broadcast Satellite) Digital Broadcasts, meaning television broadcasts with high picture and sound quality, high quality radio broadcasts accompanied by still images, and data broadcasting supporting e-commerce including retail shopping and banking. NHK has been employing this broadcasting service since 2000.2
3. Information Program Center. Here you get to pretend you're on the quiz show set of "Tameshite Gatten", a life science program. (Here's what I did.)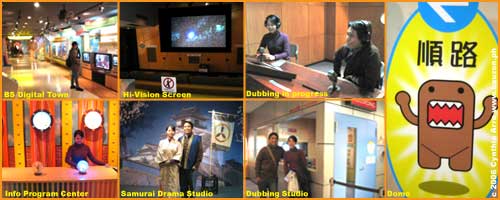 4. Radio Japan Friendly Studio. Gives you the opportunity to see international broadcasts on shortwave in 22 languages.
5. Dubbing Studio. This is fun, it's an interactive demo of how dubbing is done. Arn and I were shown a short film clip of a melodramatic scene, first with audio. Then we had to learn the lines each of the characters spoke and record them as the scene ran on screen. Afterwards the clip will be played back with your voice digitally mixed with the video.
6. Samurai Drama Studio. The staff will take a souvenir shot of you wearing Japanese robes against a realistic costume drama setting. Here's our photo. 😀
7. BS Tora-san Studio. Commemorates the entire 48 film broadcasts of "It's Tough Being a Man" (Otoko wa Tsurai yo), a Japanese film series starring the late Kiyoshi Atsumi as Tora-san, a kind-hearted vagabond who is always unlucky in love. The studio features a set of Tora-san's home and the dumpling shop at Shibamata in Tokyo's Katsushika district. Tora-san's costumes and the suitcase are also exhibited. Visitors can have their picture taken beside a life-size panel picture of the character.
8. Experience Studio Q. Here you'll get to experience being a TV news reporter. They give you a sheet of paper to read "on air" (don't worry, they have cue cards in English for foreign tourists) and then afterwards they'll play it back so you can see how you did.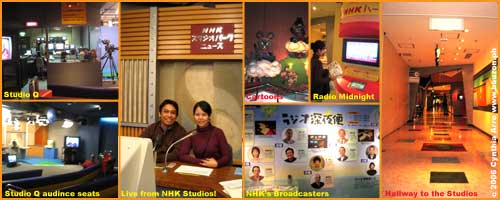 9. Radio Midnight Express Corner. "Radio Midnight Express" is actually a long-running NHK radio program. This station presents a visual history of radio broadcasting, from analog to digital.
10. History of Broadcasting. An audio-visual display of past historic events on TV as captured by NHK.
11. Studio Viewing Corner. Here you'll see rows of large glass panels from which you can peer through and look down on TV studios where NHK's popular programs are filmed. (Photography is not allowed in this section).
12. CT-450 Studio. Watch live broadcasts and even take part in TV programs. We got to see a live recording of the talk show "Saturday Studio Park". (Photography is not allowed in this section).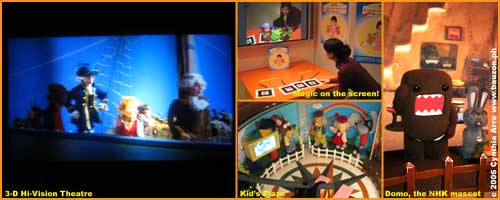 13. All Studios Shown on TV Screens. All 21 working studios at the NHK Broadcasting Center are shown on the different TV screens.
14. 3D Hi-Vision Theatre. This is the only place in the world where you can enjoy 3D images without the aid of 3D glasses! It's true, we watched a 15 minute short film in the theatre and it was in 3D. NHK is the first to develop 3D HDTV technology and it's being looked at as a possible broadcasting medium in the future. How exciting! Imagine watching high-definition 3D telecasts in your own home — it'll almost be like you're part of the scene you're watching.
15. Kid's Plaza. The place for meeting all your favorite NHK cartoon characters like the chocolate brownie-like Domo-kun and his friends.
16. World Heritage Center. Exhibition of hi-vision images of World Heritage Sites.
Overview
Even if Arn and I aren't too familiar with the NHK programs (since we only get their world news cable channel here in the Philippines), the Studio Park experience was pretty enjoyable — and quite a steal at 200 yen per head — and definitely worth our while.
NHK Studio Park links
*Bigger NHK Studio Park photos — a link to my Multiply Gallery
*TCVB recommends the NHK Studio Park
*NHK Broadcasting Center Wikipedia article
*NHK Wikipedia article
*NHK's Official Site (Japanese)
*NHK's Official Site (English)
*NHK Studio Park's Official Website (Japanese)
(Visited 574 times, 1 visits today)
See the page I made about our trip to the Ghibli Museum in Mitaka, Tokyo[ back]

I wonder when our country can — or will ever — afford to adapt this kind of broadcasting?

[ back]