[Last entry: "Weddings all around us"] | THIS WEEK | [Next entry: "Deanna's demise + cutting the umbilical cord"]
December 06:

Gadzooks, look at that mess on my keyboard!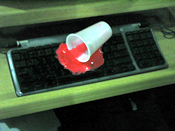 Hehe, kidding. It's really a nifty gluecraft project Arn and I learned to make courtesy of Disney's Art Attack, our favorite show these days. I swear when I have a kid someday we'd do all those projects together.
***
And if you've ever been tuned to the Disney Channel for more than 5 hours, you'd have probably discovered that Raven from "That's So Raven" was a Cosby kid! Whoa.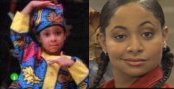 Sorry if this is old news to you, I'm entertainment-deprived, remember?
***
It seems that some of the invites we've sent out hadn't made it to their destinations yet. Darn. If you're in the midst of planning too and are interested in how we planned our send-outs... well read on.
We divided the invites in three batches:
Batch 1. For individual mailing via regular surface mail (international and domestic). Status: only half have received theirs.
Batch 2. For group-mailing via courier -- say, for friends who see each other a lot or work in the same office, etc. Status: All were received and 25 of the guests have RSVP'd with the coordinator already! Friends, if you're reading this -- we really appreciate it, thanks so much (;
Batch 3. For hand delivery. Status: half and half because it's subject to my mom's driver's availability and/or my route and schedule.
Unsolicited advice:
1. If you're going for surface mail, better mail them 2 months before your big day. With our metro's postal service, you can never be sure... The Mailing Station at the Rustan's Tower supermarket is the best though, our guests received them less than week from send-out.
2. If you have money to spare, better courier them all. Just remember to bring your fiancÈ along to help you fill out all those forms!
*Carlo H, please let me know if you, Dulz and Ron have received yours. Should've just given them last Saturday pala, sigh.
9 comments
hey mare.. still no sign of the courier here either. lol.
Posted by meg
Dec 15 | 09:26 AM
he was your teacher? heehee! kami naman, we all work with him, but we call him Kuya Robert bec of the show, and he especially hates it when we scream "kuya robert" in public. ;)
Posted by alia
Dec 14 | 11:24 AM
Jen! E-mail ko sa
yo within the week
ok? (:
Alia! No we haven't
seen an episode,
papa-request na
lang kami kay
Robert ng private
tutoring hehe. He's
a friend of ours, at
naging teacher ko
sya nung unang
panahon (:
Posted by Cyn
Dec 12 | 07:54 AM
have you guys watched robert alejandro in Art Is-Kool? :) it's every saturday morning, at 9 i think.
Posted by alia
Dec 12 | 07:17 AM
Cyn! Cyn! Pwede ba makita ang sample ng invites niyo? Pretty please? :)
Posted by jen
Dec 11 | 08:22 AM
Hey Jen! Actually
we had our invites
printed 4 months
before too, kaya
lang Amis
overbooked
themselves... tuloy
na-delay kami ng
konti. We were
lenient with them
though bec we
wanted no bad
blood between us
-- our invites were
at stake eh, hehe.
(:
Posted by Cynthia
Dec 10 | 08:29 AM
thanks for the invite mailing advice. I'm hoping to get my invites printed 4 months before the wedding. So tama lang pala ang timing ko. :)
Posted by jen
Dec 10 | 06:45 AM
Hey Heids! No
problem re the
unsolicited
mailing advice,
although I'm sure
you won't
experience this
problem because
youre in the US! (:
As for Raven, I
know what you
mean! She's a bit
irritating nga
although there are
times that I find
her kinda funny.
Take care and
good luck w/ your
wedding
preparations.
Merry Christmas
too! (:
Posted by Cynthia
Dec 08 | 04:47 AM
hey, great advice on the wedding invite mailings. i still have 7 months to go so i'm not quite there yet. oh and that raven simone - she was soooo cute on the cosby show, but so friggin annoying on disney. is it just me? my nieces love her but she gets on my damn nerves! and my sis-in-law thinks she's so corny. i'd have to agree. lol. merry xmas if i don't get to drop by before then. =)
Posted by heidiologies
Dec 07 | 11:00 AM