[Last entry: "My birthday boy."] | THIS WEEK | [Next entry: "Jolens"]
September 10:
Treelets & September get-togethers
Jill Bliss recently sent out information about her new project, a 32-page full color graphic novel called Treelets.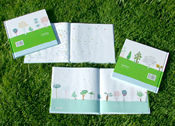 Simple and quirky hand drawn images illustrate the stories of two increasingly interpollinating worlds populated by small trees.
Cute, huh? Didn't I tell you she was one of my idols?
***
I poked around Jill's site some more and also found these unique, cost-effective wedding invitation sets she designed for friends. I wish I found them sooner though, they would've inspired us to go completely DIY on our invites (which are, incidentally, at the printing press already *gulp, crossing fingers they'll turn out well*).
***
Because my monitor forced me to go on vacation last week, I had to spend the last five days cramming to finish 5 jobs all at once. This, in between (all in all) six client meetings on Friday, Monday & Tuesday. Now is probably the only window in my sked that I can squeeze in a blog for this week but I sincerely thank you for visiting every now and then even when there's nothing to see. (:
***
I refuse, however, to let work get in the way of meeting with friends, especially those whom we haven't seen in ages!
Friday night was spent hanging out with the Comic Quest gang: Vinnie, Marco, Carl, Jason, Dean & Nikki. (See my Fotolog for our pic).
Saturday was a joint birthday gathering of our UP Fine Arts friends at Lizza's place. (Pictures are here.)
And yesterday Arn and I along with Ninoy dropped by O&M to visit some of my old friends since we had meetings in the building anyway.
***
Speaking of friends, would you believe that Tirso Cruz is in my Friendster friends list? Yup, I actually got a friend-request from him (or more likely someone pretending to be him). How funny!