[Last entry: "Mixtapes & a 32-year Marriage"] | THIS WEEK | [Next entry: "Look, up in the sky!"]
July 15:
Swamped Mushy Muddy
If the idea of being engulfed in symphonic music under a canopy of stars appeals to you, why don't you head on over to the Walled City this Friday evening for Variations: Music on the Walls, a concert series brought to us by the San Miguel Foundation for the Performing Arts. And hey guess what, admission is f-r-e-e.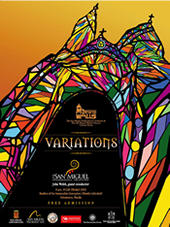 For more information, join the SMFPA mailing list.
*Arnold and I worked labored on the merchandising materials all of last week so if you love us (as if!), please go and support our client.
***
Other projects in the works: a pop diva's album (due out this week), packaging for a beverage company's line of jams and preserves, and a website. (Arn is churning out some new stuff for the graphic novel-reading world too. )
***
Although wedding planning is taking a backseat right now, there have been a couple of unexpected developments:
a Make-up artist
a Souvenirs

3 comments
hey you! sabi ko nga ba familiar ka.. hehe :)
Posted by kai
Aug 08 | 11:21 PM
Hi, Cyn! Sent you e-mail! Take care!
Posted by Jason
Jul 28 | 10:33 AM
wow, gagawa ka na rin ng packaging? yay! go cynthia!
Posted by Melai
Jul 17 | 06:38 AM