[Last entry: "Kikko-man"] | THIS WEEK | [Next entry: "Random highlights of the week."]
June 20:
Hulk and other stuff.
Thank goodness this week was not all about work... well, Monday and Tuesday were. Wednesday was girl-bonding day with Lizza over "a symphony of flavors" at Little Asia. Thursday was Hulk day with our friends Robert, Shirley, Emil, and Ian. Today I'm back at work but my 11am is definitely reserved for Buffy:The Musical. Sorry, but now you know how relaxation-deprived my Arn and I have been.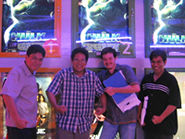 *Ian, Emil, Robert, and Arn doing their best Hulk impressions.
***
Ang Lee's Hulk was awesome! What a ride. The first part kinda dragged but later on we understood that it was an intentional contrast to the fast-paced action the last 60 minutes was gonna be. The comic book panel-style editing looked a bit awkward at the start but we warmed up to it as the movie progressed.
By the way, after this movie, I don't think I can look at French Poodles the same way again.
***
Oh, we bumped into The Brothers Liongoren at the theatre lobby. Avid was his usual jumpy self and Erik who knew about our upcoming wedding generously offered us his photog services for free* (aba naman!). Lucky for him we already have 3 of our close friends shooting for us, otherwise we just might have taken him up on that offer heh.
*In exchange for projects and leads, of course!
***
Speaking of wedding planning, it's so nice to see other co-bloggers (Luis, Jen) in the same boat!
1 comment
alam mo, i was really disappointed w/ the hulk. not with ang lee's work, of course. there were lots of frames in that film that i would have loved to freeze and make prints of, but i thought the screenplay was terrible. the cg was disappointing also. nemo and final fantasy raised the bar, and coming back to the hulk's calibre of animation was disappointing. lots of inconsistencies also. i liked the comicbook panels right from the start, though. towards the end i kinda got tired of them. para bang, TAMA NA! lol. oh, and the whole theater was laughing at the most inappropriate moments last night. unintentional comedy nga.
Posted by heidiologies
Jun 22 | 08:26 AM