[Last entry: "Simbang Gabi at Kasalan"] | THIS WEEK | [Next entry: "Domino, Toei, Halina"]
May 16:
Fernwood
Two days ago I attended a beautiful wedding. Never mind that the couple did not know me from squat*, I still had a great time observing and mentally taking down notes for my own altar date later this year. The dinner reception was held at Fernwood Gardens and gee, no wonder it's almost fully booked for 2003, the place is beautiful! It's like a tropical rainforest, complete with parrots and waterfalls and rainbow-colored fish, but I think the selling point is the skylight dome-roof that lets you party without worry, rain or shine.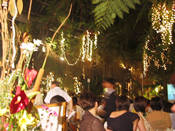 *They got my mom as Principal Sponsor. Since my dad is out of the country, I became her official chauffeur and chaperone.

***
My mom's former consultees (Pedia residents), upon meeting me for the first time: "Hi Cynthia, graduate ka na ba?" Eep, I'm probably older than most of them.
2 comments
Isn't a bit flattering? In a way? "so graduate ka na nga ba?"
Posted by Elbert
May 16 | 02:44 PM
"...graduate ka na ba?" Funny, that's what most of my mom's friends would ask me every single time. Of course the second question in line is, "eh, sinong girlfriend mo?". To which I reply, "wala pa po, too young for love. Work muna" ;-)
Wait 'till they meet my future wife. Heh.
Posted by Luis
May 16 | 12:07 PM