[Last entry: "Of SARS and apples."] | THIS WEEK | [Next entry: "Noyni"]
May 03:
Random thingamajiggers.
Please welcome a new blog on the block: Vinnie Simbulan's My Life As A Bed
***
Spotted during my last window-surfing spree:
1. The Comics Bracelet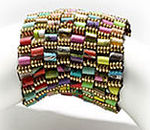 Perfect for: the fanboy's girl.
Note: The bracelets are made of colorful comic-strip and brass heishi beads.
2. A Water Can Tote
Perfect for: your green-thumbed fashionista friend.
3. A children's book-themed wedding cake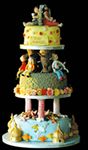 Perfect for: the Peter Pan-and-Wendy-minded couple.
6 comments
Alia, Melai, Gemini
-- hey now! yeah
nga,
uncommongoods
is such a great
site no?
Ailene - you bet! I
keep changing my
mind regarding
souvenirs and
other stuff bec of
all the new things I
find everyday,
hehe.
Antony - oh no,
sorry but those
icons are in the
freezer ): Will try to
dig them up then
I'll send them to
you via e-mail.
Posted by Cynthia
May 08 | 07:30 AM
hey, ate cyn! my officemates and i took a look at uncommongoods.com and found lots of cool stuff. talk about eye candy!
good thing we didn't have any credit cards on us at the time. we would've ordered a lot! :)
Posted by alia
May 07 | 08:39 PM
hey there! loved da uncommon stuff webbie!! thx 4 sharing and telling abt it! =)
hmm i tried contacting ur email and had no reply! plz rit me back! regarding website design!
thx =)
Posted by Gemini
May 07 | 01:09 PM
Haha... I think I'm
going to plan my
own wedding
too.... Look at all
the cool things
you're stumbling
upon?!
=D
Posted by ailene
May 06 | 12:49 PM
Ang cute! Argh! Uncommongoods.com really calls out to the consumer in everyone. Kainis!
Posted by Melai
May 04 | 08:59 PM
off-topic: hi ate cyn. um, where can i find your freebie icons (eheads) in your portfolio site?
Posted by antony
May 03 | 02:50 PM