[Last entry: "Mirror Project and our 3rd Yeard Anniv"] | THIS WEEK | [Next entry: "SadMac"]
April 12:
Take-Out candles and Blue Ketchup
IF Arn and I were planning our wedding around a Rice Toppings theme, we'd most likely scatter Chinese take-out votives all around the reception area...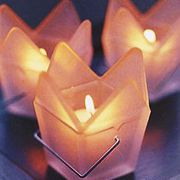 ... and have Singkit do the catering hehe.
Wanna see other cute Asian-themed favors? [Go]
***
Is blue the new orange*? First there was Pepsi Blue which not a few people said reminded them of astring-o-sol (or worse, toilet duck). Now condiment magnate Heinz just recently introduced blue ketchup.
(via Vanilla Forever)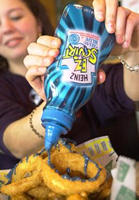 "Stellar Blue", they call it. Apparently Heinz already carries ketchup in other rainbow colors so yikes, what's left? "Squid Ink Black"?
*Food stylists, photographers, and even your home ec teacher will tell you that orange is the most appetizing color.
10 comments
me got the purple colored heinz ketchup
but i don't really like heinz
i like del monte sweet blend better!
:P
teehee
Posted by isi
May 04 | 11:08 AM
Anything to make kids eat their vegetables. If I were a 5-8 year old, I think it would be pretty cool to have all these colors at my disposal. But yes, blue is a pretty weirdo color to use.
Posted by Jason
Apr 22 | 09:36 PM
Thanks for visiting and leaving comments while I was away, girls and guys!
Jayce we spent holy week with our families (:
Posted by Cynthia
Apr 22 | 07:30 PM
blue ketchup? sounds disgusting yet nice at the same time.
Posted by tuan
Apr 22 | 05:25 PM
uy kumusta holy week ninyo. we spent it at linden suites...
Posted by Your name
Apr 22 | 07:50 AM
strange ketchup color for a tasty red jumbo hotdog
Posted by The Z
Apr 18 | 04:35 PM
blue is the least appetizing color I think. blue ketchup? blech, just so wrong.
Posted by wysgal
Apr 15 | 06:30 PM
i've actually quite grown used to the green slimer-inspired one. great for kids, me included. :)
Posted by nic
Apr 15 | 01:41 AM
that's so weird! bet ko gagamitin 'yan sa UAAP, just like blue pepsi during the ateneo victory party.
Posted by alia
Apr 14 | 10:26 AM
I can't imagine eating blue ketchup. It just wouldn't be the same! Tomatoes are not blue! :)
Posted by jen
Apr 14 | 09:36 AM