[Last entry: "New DVDs from Nic."] | THIS WEEK | [Next entry: "Manila Girl"]
January 23:
Fun with friends.
A couple of nights ago we got together with our Creative Cat group of friends to celebrate some birthdays and simply catch up and have a good time. Arn and I finally got to play Cranium, the brain-stimulating game Dean & Gig brought back from the US. Fun moments I can remember:
ï Vinnie sculpting a swimming pool (it ended up looking like a boat with a beach ball in the center)
ï Dimaans humming "Whip It"-- yes, that "Whip It" -- and Carl guessing the tune
ï Cams charading the phrase "role model"
ï Jayce guessing the word puzzle Arn and I couldn't figure out
ï Carl cleverly sculpting a boxing match in 2-D
ï Dean and Gig struggling with word puzzles (ha, for once!)
ï Arn impersonating Humphrey Bogart, Liberace, Woody Allen, and Puff the Magic Dragon (I guessed them all except for Puff -- his charade was so funny, nonetheless)
(But of course I won't mention my own boo-boos, see Dean's blog na lang.)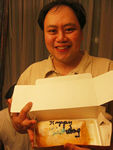 Vinnie and the birthday-Brazo De Mercedes.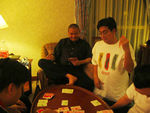 The gang playing a round of Apples to Apples.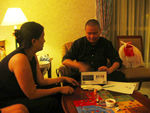 Nikki and Dean setting up Cranium.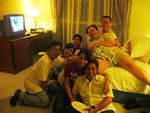 Posing in the bedroom.
***
As soon as she learned about our engagement, a good friend from college, Ads Leung, generously offered to lend me her sister's Martha Stewart Wedding magazines (which, at P700 a pop, I absolutely cannot afford). Ads, a well-known photographer/production-designer in the ad biz, had been inviting us to see her self-decorated condo unit for months but since her busy schedule couldn't meet ours, the plans never materialized until recently. The place was so tastefully designed Arn and I couldn't resist taking pictures to post here (Shei, Tippi, look at this!):

Me and the wondergirl!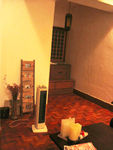 It's not visible here but the window is composed of multi-colored stained glass squares. Ingenious!

Ads had those wooden slats installed in the ceiling for dramatic lighting.

Here's Arn inspecting the photo ref magnets Ads made herself.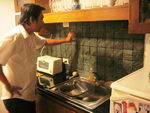 Those pre-cut stone tiles actually cost less (and look much nicer) than ordinary kitchen tiles.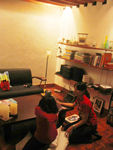 Ads mostly uses garden materials (keyword=affordable) to decorate her pad proving that good interior design doesn't have to cost an arm and a leg.
***
Earlier that day, we were in Makati for work but were able to accidentally meet up with another one of my good friends Sheila in the afternoon. Being married, she was all too happy to sit down and give us even more wedding tips. I should start carrying a little notebook for all the ideas we get from friends!
4 comments
cranium is sooo much fun!! :)
Posted by trixy
Feb 02 | 12:03 PM
Hi Cynthia!
It's MTV Ink. Campus Ink 4 page insert to the Justin Timberlake covered December Ish. Page 4, entitle "After Eden Book Tour".
it reads "...just kicked off last November 10 at the Megamall branch of the National Book Store. Uber artist and John Travolta lookalike, Arnold Arre is a two-time National Book awardee whose futuristic Trip to Tagaytay and action-packed Mythology Class graphic novels were hailed as Best Comic Books...."
So does that make you his Olivia Newton-John? "Grease Lightning!!!"
Posted by Junnie
Jan 25 | 06:57 AM
Hi Junnie!
That's super funny!
What magazine was
it? Remember I also
posted about him
looking like John T a
few months back?
Haha wala na syang
takas.
Posted by Cyn
Jan 25 | 06:12 AM
Hi Cynthia, I was leafing through my stash of January magazines til 3am this morning and read about Arn and his being a dead-ringer to John Travolta. (It just means he doesnt have to impersonate him, if in case, John T comes out in your next Cranium game).
I think it was MTV Ink. No. It was FHM.
...or Yes or Star Studio. :)
Posted by Junnie
Jan 24 | 07:17 AM