After a year of practicing watercolors almost non-stop, I've decided that I'm now ready to hold my own watercolor workshop. I've thought about it for months — some generous people have already offered their establishments as venues — but I didn't want to commit until I was 100% ready. But then I got such a high from teaching the shrink art workshop and from giving a talk to young creative ICA girls last year that something inside me clicked and said "ok, now na."
Since Mansy of Hey Kessy has been very supportive of me & my art journey, I wanted to hold my first watercolor workshop with them. 🙂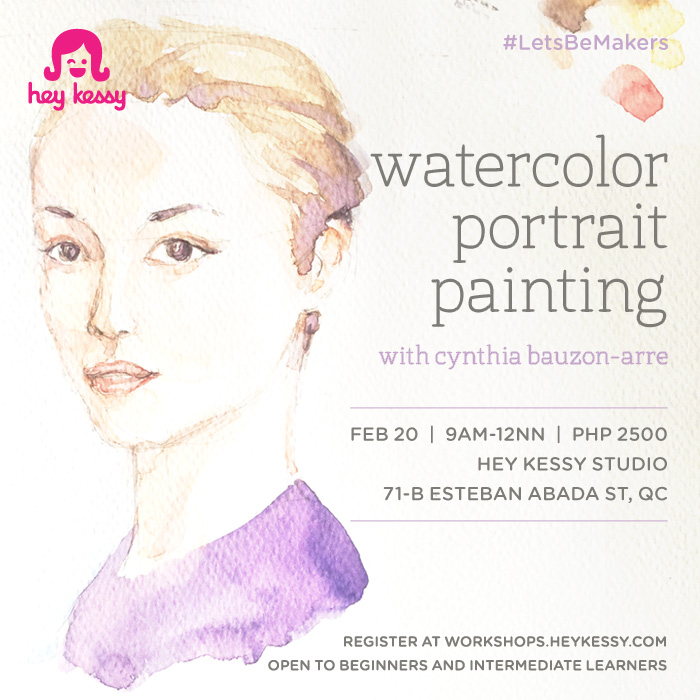 You can sign up for a slot here.
In this class I'll be teaching you how to paint simple and loosely expressive watercolor portraits from live or photo references. Don't worry, even if you have never drawn a face you will learn the basics. We also won't make anything too involved or "overworked" since I want to highlight the spontaneous quality of the medium. (And to be honest, I can appreciate them but I'm not a big fan of hyper-realistic paintings because if I wanted "realistic" I'll just use a camera. ;))
The fee is inclusive of snacks & a workshop kit consisting of a zine, a 12-tube watercolor set, a 3-pc round brush set, watercolor paper sheets, a mixing plate, a pencil and an eraser.
Here are some of my sample practive work. Can you tell that I'm both nervous and excited?
Hope to see you then though if you can't make it on Feb. 20, I promise there'll be more soon. I'll announce when the dates are final.
***
Update on our coloring books: they are now available at select Powerbooks and NBS branches in Metro Manila, Hey Kessy in Katipunan (Flutterby only), and Laruan Atbp, in Maginhawa St. QC along with Arnold's graphic novels and Nautilus Comics / Chamber Shell Publishing books.
You can also buy them directly from our publisher at Chamber Shell, via orders@nautiluscomics.net, or by clicking the button on the sidebar — >
***
Happy 2016! Sorry, I've been a little remiss in updating these past few weeks… BUT! If you'd like some bite-size news, I recently reactivated my Twitter so you can peek in there every now and then if you like. 🙂