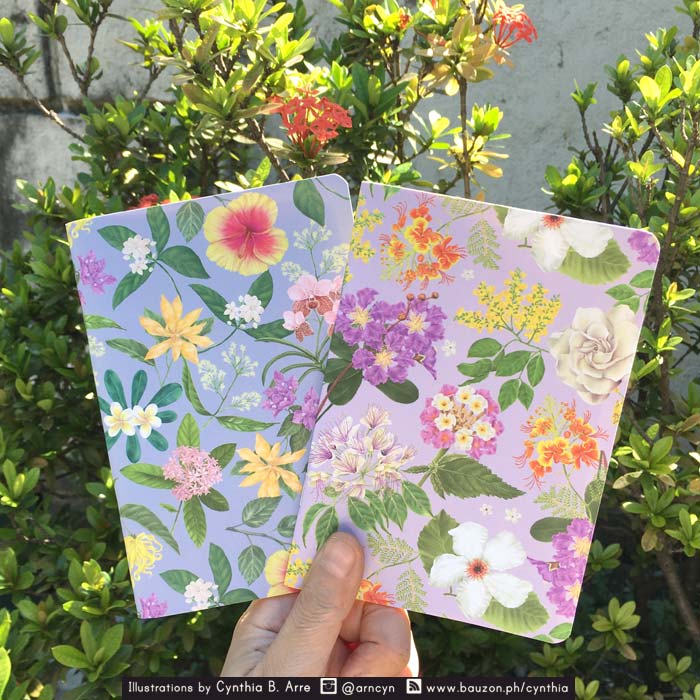 Since my last post about Affordable Filipino Souvenirs, I have gone all out in employing Philippine themes in my output. Call it growing old and finally realizing what I was given a voice – okay, a drawing arm – to do. At first, I got fixated on drawing the fruits & flowers familiar to me as a child. We have a lot of trees here at home as my Dad never fails to save seeds of fruits we eat to plant in the garden.
That interest naturally extended to birds. Every morning, Arnold and I would take turns accompanying our cat outside so he can chew on plant salad (to aid in his digestion) and get some fresh air. Almost always, a black & white bird with a flamboyant fantail would come swooping down to play with his feelings. I did some research and learned that this is a Pied Fantail or Maria Capra. Another regular visitor was an olive colored bird that flitted among the gumamelas. It looked like a hummingbird but I later on found out that it was an Olive-backed Sunbird. I got interested in these little fellas and soon found out that many of our endemic birds are already classified as "Vulnerable" or "Threatened" due to loss of habitat & deforestation. Such sad.
Upon further research, I learned that just by planting more native plants and trees, these birds will have a home and the various threatened species will have a fighting chance of surviving.
Thus I am making it my mission to raise awareness for the plight of these creatures and also hail the advantages of planting native flowers & tree species in order to preserve our formerly-rich biodiversity as well as promote our culture. So far I have been able to come up with notebooks and sticker sets that feature local flora and fauna. Oh, and this awesome collab with Filed, the "Garden Bloom" pen capsule.
The bird is a Philippine Trogon, endemic to the Philippines and the accompanying flowers are kalachuchi and sampaguitas as well as a lone waxflower below the bird, all native. You may buy it here.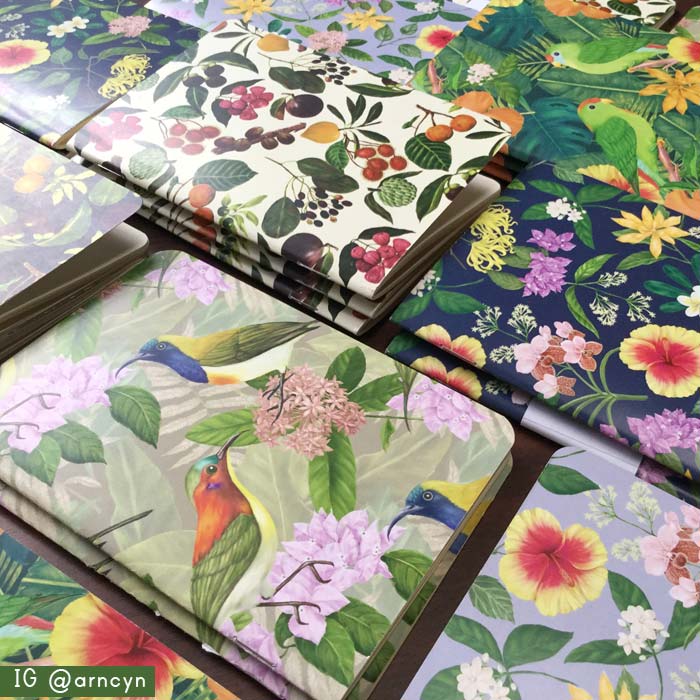 You may also check out the notecards, notebooks, and other Philippine Fruits and Flowers-themed items at my Web Shop and at my stockists – Hey Kessy (UP Town Center) and Common Room (Katipunan, Powerplant Mall, Alabang Town Center). If I had enough funds I would donate part of the earnings to orgs that share this mission but alas, I won't be able to sustain it since I am still starting out with this small business.
***
Meanwhile, and in line with the "promoting Philippine culture" aspect of my mission, I was fortunate enough to have been tapped by Common Room to be among the 1st batch of artists to make a souvenir for DTI's Go Lokal Store in Buendia and (very soon!) NAIA 3. My collection was inspired by the beloved Filipino folk song "Bahay Kubo" — you know the one, it enumerates various vegetables & here I've drawn them framing a small nipa hut, the bahay kubo that a typical rural Pinoy family calls home.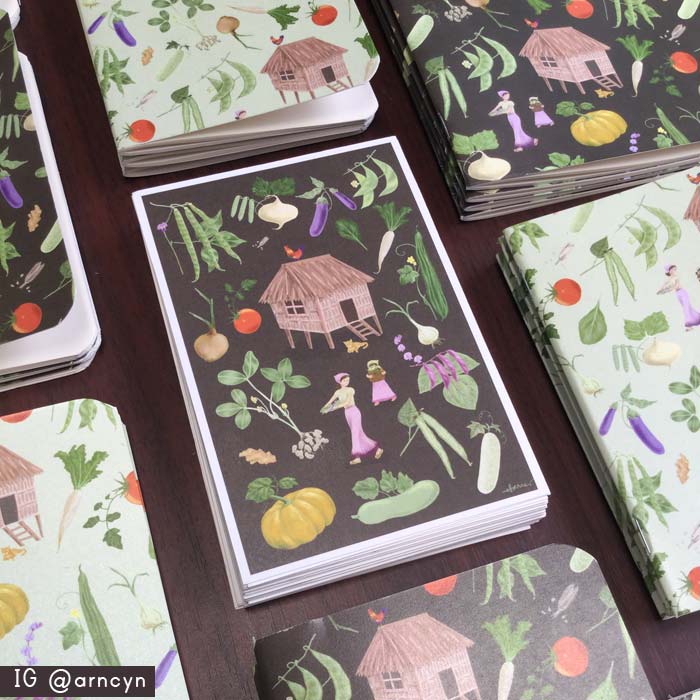 I designed these as early as February but the entire collection was launched just last week. At first my postcard design had part of the lyrics but I wasn't sure if they fall under public domain already (I asked Filscap but apparently they have no idea too) so I took them out and came up with these playful designs. I think they work even without the lyrics since it's a well-known song. Fun fact: I learned that the vegetables mentioned in the song are "introduced" species, not at all Filipino natives. But still it's a song that's ingrained in Filipino culture so I was willing to overlook that detail.
The Bahay Kubo postcards and notebook collection are exclusively available at DTI's Go Lokal stores. 🙂