My favorite 2006 "discoveries" in no particular order.


Photo swiped from this site.
1. Seafood Gumbo at Gumbo (SM's Mall of Asia and The Block). Yummy — spicy, chockfull of crawfish, crab meat, shrimp and squid — and very filling. Even if you only get the petite serving (P175), it's more than enough to feed two hungry people.1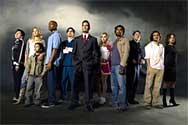 Photo swiped from this site.
2. The TV series Heroes. If you liked the X-files, you will DEFINITELY like Heroes. Arn and I first heard about the tv series from our friend Sam a couple of months ago but we never got to watch it until last, last week.2 The series, which tells the story of several people who thought they were like everyone else until they woke with incredible abilities such as telepathy, time travel and flight, however X-men-inspired, is not your average teens-with-powers banding together kind of story. Part of the charm is that it's written and paced like a comic — it's composed of different story arcs that interlink to form a universal plot. Arn and I have only seen 8 chapters so far but we'll have to give it 5 stars for managing to boggle the mind, keep us interested for 4 hours straight at a time (we would've watched longer if we didn't have to work on something), entertain, and creep us out (Sylar is the scariest villain since John Doe) all at once. So if you haven't yet, do yourselves a favor and try to watch an episode — see if you don't get hooked3.



3. Elianto's Sheer Powder and Lip Treatment Duo. I hardly wear make-up since, well, I hate putting stuff on my face but I know I have to look presentable every once in a while. So I checked out the stuf at Elianto, a Malaysian brand which offers cosmetics and skincare products with the vibrancy and wholesome value of fruits. Their organic and fruit-based skincare line is packaged really nicely4, the powder feels light and fresh, and the medicated lip jellies really work to heal cracked lips *plus* they taste delightfully fruity!


4. Ming Ong and Kathang Kamay. I "discovered" Ming via the Multiply network: she's my good friend Tippi's friend and Tips occasionally gets her to design accessories for her fashion shows. What struck Arn and me about her work is that they're all intricately done and are very unique and original — there's nothing else quite like them in the market. Her designs are available at Souk and Mag:net but you can also ask her to make custom, one-of-a-kind pieces for you. Besides being talented, she's really nice and has since become my friend too. See her work in her gallery and in the latest WE issue 😀
(And speaking of Tippi, did you know that her works were recently exhibited in Doha, right at the time the Asian Games were held there? More info on her site. Way to go Tips!)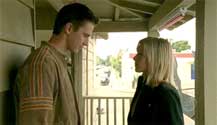 5. Veronica Mars, huwat else? I have our friend Lia to thank for introducing me to Veronica Mars early last year — now I am such a huge fan of the series (and so are Nest and Buddy! We had a blast discussing the series when we visited their home yesterday). I love the storytelling, the overall direction, the characters, and the way that each entire season is one big story arc with different twists and turns that, throughout the season, will fall into place like pieces in a puzzle. A soundtrack that includes the Dandy Warhols, Ivy, the Donnas, etc doesn't hurt either. Do check it out, although I would suggest that you watch it from the beginning because the way it's structured has a tendency to confuse a viewer diving in midway thru the series. Incidentally, the photo I chose shows Veronica and Logan right before they kiss for the first time — a scene that, in my opinion, comes a close second in terms of "kilig factor" to the Angela Chase-Jordan Catalano Buffalo Tom hallway moment in My So-Called Life.5
***
Sorry for the lack of entries, it seems like the first quarter is turning out to be pretty hectic for us — what else is new? What's keeping us sane though is the "opening" of our new Cafepress shop Poptastic.

More about it next time and for now, tune in to the accompanying blog for updates on new designs.