Happy 2007 to all of you 😀
***
A few scenes from MY December: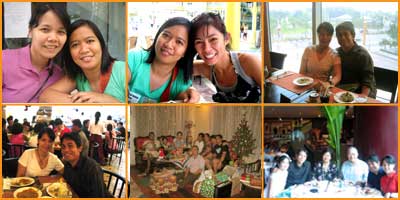 One of my bestest friends Sheila was in Manila last month so naturally Tips and I dropped everything to meet with her for good ol' lunch and coffee. And then of course there were the family reunions and get-togethers galore (my dad flew home for a vacation and so did Arn's brother Jing1 so the families were complete2 once again :)): miscellaneous pre-Christmas lunches and dinners with relatives and friends, Christmas eve dinner and Christmas day lunch with my family, Christmas day dinner and day-after-Christmas breakfast and lunch with Arn's family, our day-long wedding anniversary celebration, day before New Year's lunch and dinner with Arn's family, and then New Year's Eve dinner and New Year's Day lunch with my family. Whew!3
More:


From left: our kitty by the Christmas tree, the last of Papa's kaki (persimmon) pasalubong before I mercilessly sliced through it with that little knife beside it, Papa and Mama at Seven Corners, my ice cream teppanyaki being tossed together, half of the batch of red velvet cupcakes I baked for our families, and Arn and his brother Jing at the NAIA canteen "Windows of the World" minutes before his flight back to Sing.
***
So how's everyone's internet connection doing since the great, year-end quake4? We're on PLDT-DSL and it's been buggy for the past week to say the least. There are days when Google and Gmail loads quickly but then I get stuck loading my own webpage for 10 minutes5. I wonder how it is in other Asian countries. Shei? It's comforting to know though that repairs are under way and here's hoping that normalcy is restored in a week's time.
***
By the way, the January-June 2007 issue of Wedding Essentials is set to come out this month — it may even hit the newsstands this weekend. Please watch out for it because it might be our thickest and most comprehensive issue yet.
UPDATE: I just received a hot-off-the-press copy from our ed Marbs and the girls and holy guacamole it's dooper thick! See the pic.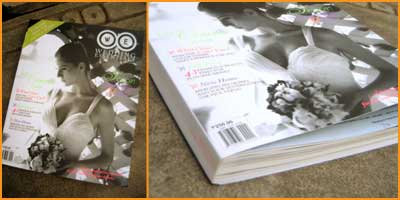 It's 285 pages thick, not counting the ads (with the ads it clocks in at 340 pages). It'll be on newsstands by next week so pretty please grab a copy if you can. It's still at P250 and I promise you it's worth every centavo (hey it's less than one peso per page!). Will write about the issue in detail once it's officially out. 😉
***
Last but not least, a big hearty THANK YOU goes out to everyone who's bought shirts and merch from my Cafepress stores! As of this writing, I've sold a total of 97 986 997 1008 shirts and when it reaches a hundred I'll be listing down all your names so you can send me photos of yourselves wearing them, alright? 😀